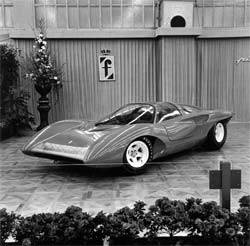 BLENHEIM, Ontario, Canada (October 13, 2005) – RM Auctions will return to Phoenix, Arizona on January 20th, 2006 with one of the most historically significant racing Ferraris ever offered at public auction. The 1969 Ferrari 212E Montagna, is one of the only Ferraris to remain unbeaten in race competition and now valued at more than $2 Million, will headline the 7th annual Vintage Motor Cars in Arizona sale. Hosted at the magnificent Arizona Biltmore Resort in Phoenix, the one-day event is known for offering some of the world's finest automobiles including historically significant and important motor cars.
The 1969 Ferrari 212E Montagna represents the one of the only Ferraris to have never lost a race. Beginning in March of 1969, the Montagna, piloted by noted driver Peter Schetty, claimed First Place nine times in a row en route to winning the 1969 European Hill Climb Championship. Following its illustrious racing career the Montagna (Chassis no. 0862) was retired into the legendary Collection of Pierre Bardinon where it remained until 1993 before being sold to the Setton Collection. The 212E Montagna is a special one-off motor car, built to do a specific job and achieved the success it deserved due to a simplistic well-engineered design. The Montagna will be offered without reserve at the 2006 Arizona auction and is estimated at $2,000,000 – $2,200,000.
"The Ferrari Montagna not only remained unbeaten throughout competition but beat its own record with each successive victory," said Rob Myers, co-founder of RM Auctions. "The legacy of sports cars, particularly Ferraris, dates to the glory age of racing in the 50's and 60's and these supercars are now highly coveted, commanding top dollar on the collector market. We expect this stellar Ferrari Montagna to be another example of our record breaking success at our Arizona auction in January."
RM Auctions has an extensive history of selling significant collector cars including several well-known vintage race cars. In August 2002, RM Auctions achieved the highest price ever paid for a Ferrari at auction, when it sold a 1962 Ferrari 330 TRI/LM Testa Rossa for $6,490,000. One year earlier, RM Auctions also set a record for the 1956 Ferrari 410 Sport which sold for $3,822,500. This past August, RM sold a rare European 1938 Talbot Lago T150 Speciale Coupe for a record $3,685,000.
Additional early consignments for the 2006 Vintage Motor Cars in Arizona sale include:
1955 Maserati 300 S Sports Racing Car – Swiss champion Benoit Musy raced this 300 S during the 1955 and 1956 seasons with many fine finishes including outright wins at Oulton Park, Chimay GP des Frontieres, Las Sable d'Oloanne Grand Prix, GP of Bari and the Swedish Grand Prix. This marvelous Maserati, completely restored by Church Green Limited (UK), was successfully raced by Martin Stretton in European Historics and is eligible for all the world's premier events including the Ferrari-Maserati Challenge.
1953 Jaguar C-Type Sports Racing Car – This wonderful C-Type from the Skip Barber Collection is fittlingly painted in British Racing Green. The C-Type was sold new in NYC by Max Hoffman to Commander John Rutherford who became a "Century Club" member in the car when he was timed at 134.07 mph on the beach at Daytona, Florida during the February, 1953 NASCAR "Speed Week" time trials.
Last year's Vintage Motor Cars in Arizona sale posted record sales of $18.7 million and a sales rate of 95%. The auction's top sellers were a stunning 1934 Duesenberg Model J Convertible Coupe which crossed the block for $2.75 million and a rare 1962 Aston Martin DB4 GT "Zagato" Coupe which hammered down for nearly $2.7 million.
RM Auction's 7th Annual Vintage Motor Cars in Arizona Auction will be held at the Arizona Biltmore Resort & Spa in Phoenix, Arizona on Friday, January 20th, 2006 from 12:00 p.m. until 6:00 p.m. Auction vehicles can be previewed beginning Thursday, January 19th from 9:00 a.m to 6:00 p.m and Friday morning beginning at 9:00 a.m. Admission is by catalog ($60) which admits two people. Event and catalog information is available at www.rmauctions.com.
Celebrating more than 25 years in the collector car industry, RM Auctions Inc. and its sister companies are responsible for acquiring, restoring and selling of the world's rarest and most expensive vintage automobiles including Best of Show winning cars at the prestigious Meadow Brook and Pebble Beach Concours. For additional information on RM Auctions Inc., please call (800) 211-4371 or visit the corporate web site at www.rmauctions.com.