1911 Rolls-Royce Silver Ghost D-Fronted Open Drive 40/50hp Landaulette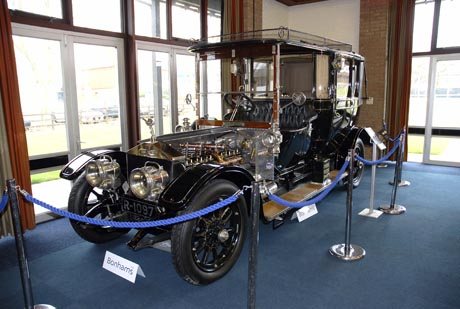 Basic Information
Car Details:1911 Rolls-Royce Silver Ghost D-Fronted Open Drive 40/50hp Landaulette
Sale Details:Platinum Only
Auction:Bonhams, The RAF Museum on April 21st, 2008
Lot #:Platinum Only
SCM #:116550
Condition Description
"Silver Grace," a very well known Silver Ghost with continuous history. Last restored to concours-winning condition in 1994. Super original spec includes Elliott instruments and Lucas lighting set.
Market Opinion
For our expert analysis of this vehicle, and over 40,000 more, please sign up for SCM Platinum Database Access.
Vehicle Information
Chassis/VIN #:1779
Engine Type:I6
Transmission:4 Spd Manual
Displacement:7438 cc
Odometer:83,710
Condition:1
Body Style:Landaulette
Features
Wheels:Spokes
Seats:Bucket
Exterior:green & black
Interior:black leather & beige cloth
Condition Rating Key
1: National concours standard/perfect
2: Very good, club concours, some small flaws
3: Average daily driver in decent condition
4: Still a driver but with some apparent flaws
5: A nasty beast that runs but has many problems
6: Good only for parts
Is there an issue with this auction record? Click here to let us know.