1951 Gambles Farmcrest 30 Tractor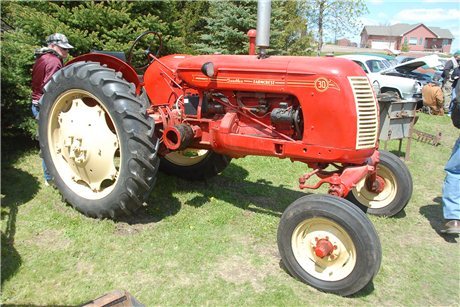 Basic Information
Car Details:1951 Gambles Farmcrest 30 Tractor
Sale Details:Platinum Only
Auction:VanDerBrink Auctions, on May 8th, 2010
Lot #:Platinum Only
SCM #:162423
Condition Description
Restored to non-show standards several years ago, with light body prep, average paint application, and lower quality adhesive decals. Some engine grime now showing on repainted engine. Cockshutt grille trim. Fitted with aftermarket wide front axle and field-and-highway lighting. Lesser quality seat reupholstery, light cracks in steering wheel. Older—if not original—rear tires show plenty of weather checking. Light-to-moderate exhaust system rust. Starts quickly and runs out well.
Market Opinion
For our expert analysis of this vehicle, and over 40,000 more, please sign up for SCM Platinum Database Access.
Vehicle Information
Chassis/VIN #:11459291500
Engine Type:I4
Transmission:4 Spd Manual
Displacement:153
Induction:1-bbl
Odometer:0
Condition:3
Body Style:Tractor
Features
Wheels:Factory Steel
Seats:Bench
Exterior:red & tan
Interior:black vinyl
Condition Rating Key
1: National concours standard/perfect
2: Very good, club concours, some small flaws
3: Average daily driver in decent condition
4: Still a driver but with some apparent flaws
5: A nasty beast that runs but has many problems
6: Good only for parts
Is there an issue with this auction record? Click here to let us know.