1905 Delaugère et Clayette 24hp Landaulette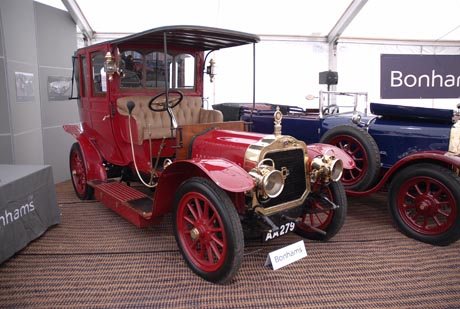 Basic Information
Car Details:1905 Delaugère et Clayette 24hp Landaulette
Sale Details:Platinum Only
Auction:Bonhams, on September 13th, 2008
Lot #:Platinum Only
SCM #:117765
Condition Description
In good order and fascinating for its period accessories, including Howes and Burley acetylene lamps, speaking tube, curly Brennus horn, and ivory door handles. Gray velour in rear compartment perfect. A masterpiece of decadent opulence. Now with magneto and pushrod instead of atmospheric intake valves.
Market Opinion
For our expert analysis of this vehicle, and over 40,000 more, please sign up for SCM Platinum Database Access.
Vehicle Information
Chassis/VIN #:303
Engine Type:I4
Displacement:6789 cc
Odometer:0
Condition:2-
Body Style:Landaulette
Features
Wheels:Spokes
Seats:Bench
Exterior:Red
Interior:gray vinyl & velour
Condition Rating Key
1: National concours standard/perfect
2: Very good, club concours, some small flaws
3: Average daily driver in decent condition
4: Still a driver but with some apparent flaws
5: A nasty beast that runs but has many problems
6: Good only for parts
Is there an issue with this auction record? Click here to let us know.