1990 Mercedes-Benz 560SEC AMG 6.0 Widebody coupe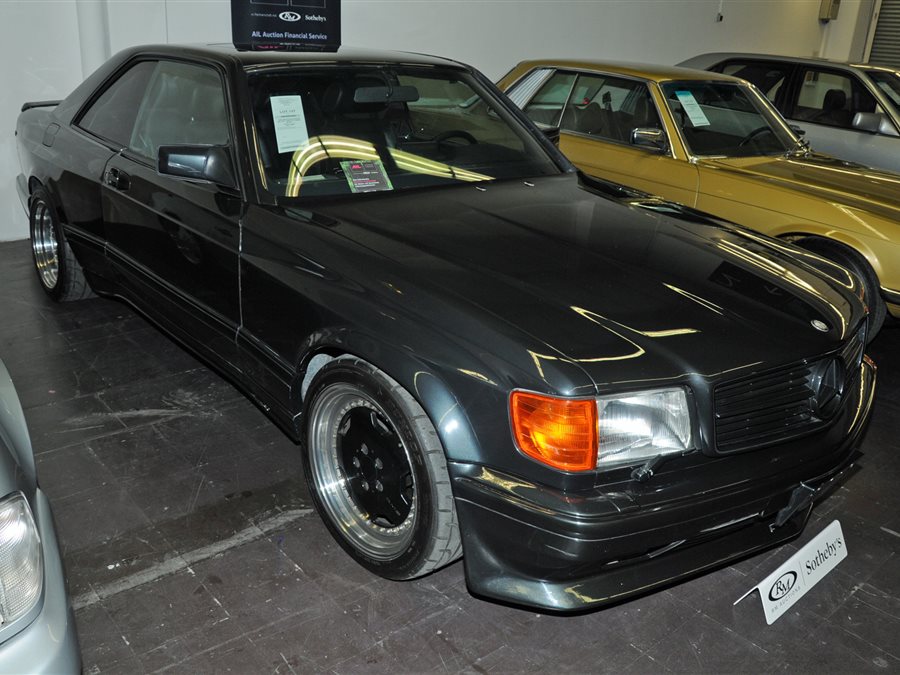 Basic Information
Car Details:1990 Mercedes-Benz 560SEC AMG 6.0 Widebody coupe
Sale Details:Platinum Only
Auction:RM Sotheby's, RM Sotheby's Essen 2019 on April 11th, 2019
Lot #:Platinum Only
SCM #:6897974
Condition Description
Sold new as an AMG conversion in Baden-Baden, Germany—with the full slate of AMG accessories—yet was bought by the consignor in Japan. Seventeen-inch AMG multi-piece wheels on Japanese-made Dunlop tires. Rims showing some bimetallic corrosion. Excellent thick repaint, only apparent in masking lines around AMG hood badge, plus windshield and backlight perimeter. Inventory label on windshield where a VIN would be if this was a North American car. Door fit okay, but not as much on the button as one expects from a Benz. Door-panel wood is two different finishes: gloss and semi-gloss, but all is in pretty good shape. Modern CD sound system in center console. Moderate wear on outboard driver's seat-bolster piping is worst of the seat wear. Newer chambered, dual-exhaust system.
Market Opinion
For our expert analysis of this vehicle, and over 40,000 more, please sign up for SCM Platinum Database Access.
Vehicle Information
Chassis/VIN #:WDB1260451A588227
Engine Type:V8
Transmission:4-sp. Automatic
Displacement:6 L
Induction:fuel injection
Odometer:81,729
Condition:3+
Body Style:coupe
Features
Wheels:Factory Alloys
Seats:Bucket
Exterior:black metallic
Interior:black leather
Condition Rating Key
1: National concours standard/perfect
2: Very good, club concours, some small flaws
3: Average daily driver in decent condition
4: Still a driver but with some apparent flaws
5: A nasty beast that runs but has many problems
6: Good only for parts
Is there an issue with this auction record? Click here to let us know.