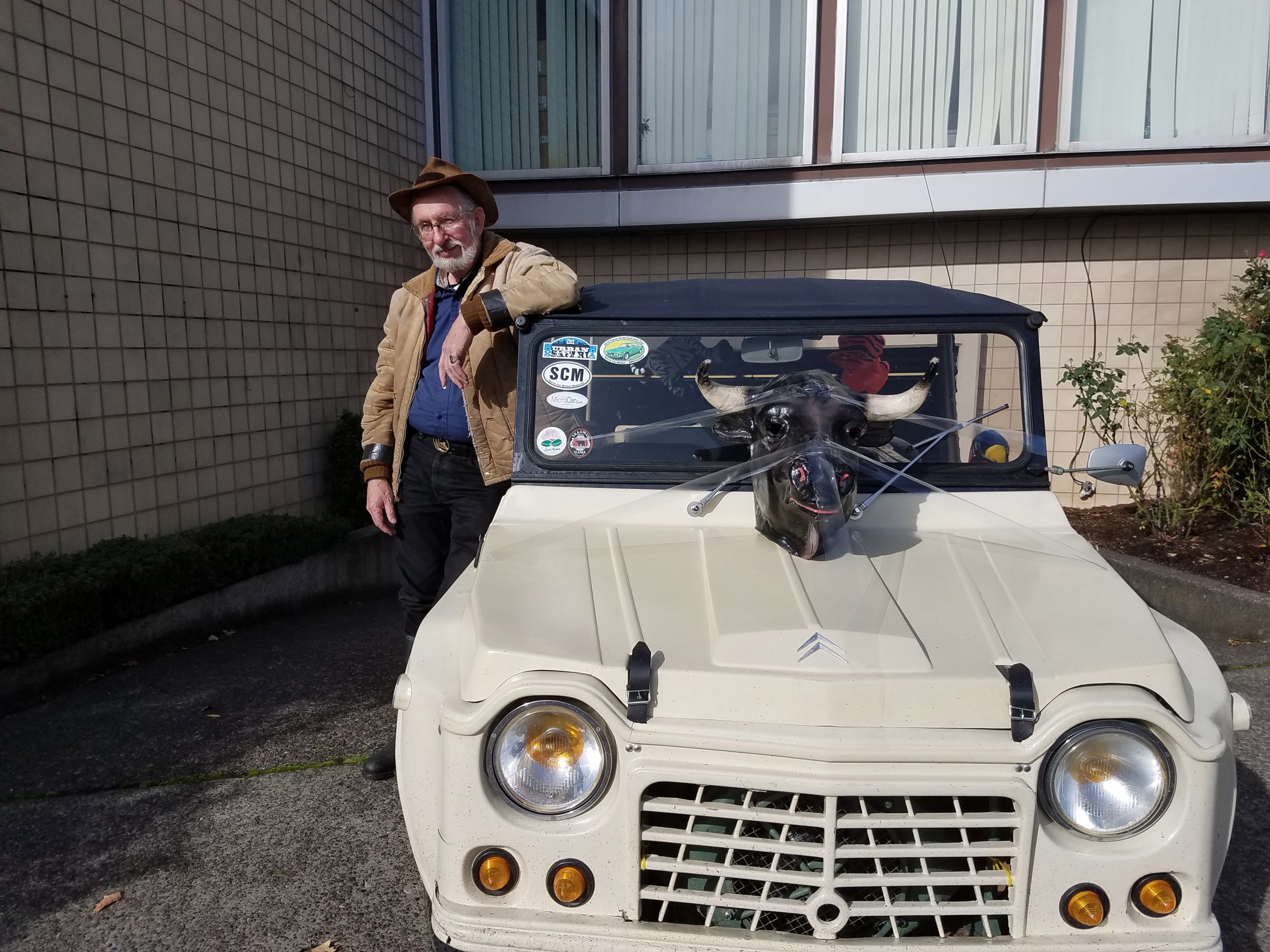 The idea of the 8th Portland Urban Safari brought to mind the Monty Python sketch, "Climbing the North Face of the Uxbridge Road," where four intrepid lads claw their way horizontally up a suburban London high street, roped together and driving pitons between sidewalk slabs.
But the drive through Portland, Oregon's unpaved byways always takes organizer Eric Didier back to his childhood in France, where he and his siblings drove an ancient Renault 4CV through the woods on his grandfather's farm. The children decorated the trail with stuffed animals and scrap car parts to resemble a plane crash, and imagined they were on safari. Later they drove their parents along the route and told the story.
In 2009 Didier and his friends reimagined his childhood trip along numerous unpaved roads in Portland, Oregon — not far from SCM World Headquarters — and it became an annual event for European off-road vehicles.
In 2014, the explorers cleared out a number of overgrown alleys prior to the trek, delighting neighbors who were fed up with brambles and homeless camps.
This year, 22 vehicles assembled at 8 a.m. on October 23 in the rugged cityscape of Northeast Portland for the latest expedition. Five hours and 29 miles of rain-flooded, pot-holed, non-paved roads later, the intrepid explorers safely arrived for lunch and a raffle on Swan Island.
The driver of each vehicle paid $40 for a well-organized crawl through unpaved roads and alleys. Drivers and passengers, including quite a few children, dressed in safari gear and Steam Punk outfits, and their cars were covered with stuffed and inflatable beasts.
The lineup represented the most rugged rigs you can imagine. There were four towering Mercedes-Benz Unimogs, (one a military backhoe!) five G-Wagens, six Land Rovers, three Volkswagen buses, including a Rotterdam Airport rig, and two off-road Mercedes-Benz Sprinter vans — one advertising Oktoberfest with banners and music.
Publisher Martin was to have piloted SCM's own 1971 Citroen 2CV Mehari, but duty called him to emcee the EURO Auto Festival in Greenville, South Carolina, where it was sunny and warm.
While one Sprinter had a real cow's skull on the grille, SCM's Mehari sported "Toro," a theatrical prop left over from a local production. Entrants gazing down from eight to 10 feet above us watched the tiny Mehari with amusement, but everyone commented how well it handled every kind of obstacle.
If you're interested in the 2017 Safari, check out http://www.urbansafari-pdx.com/