1955 Dodge Firebomb Concept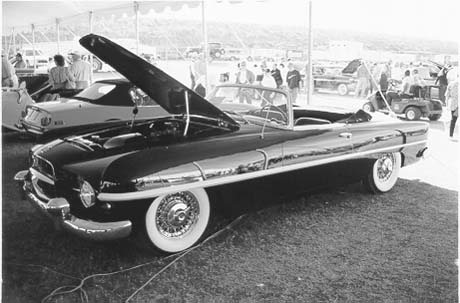 Basic Information
Car Details:1955 Dodge Firebomb Concept
Sale Details:Platinum Only
Auction:Barrett-Jackson, on
Lot #:Platinum Only
SCM #:6624
Condition Description
"Factory show car. Chrome wire wheels, 4 barrel 270hp Hemi, automatic. Nose badged Dual Ghia because Dual used this car as the prototype. Concours restoration in '92, now showing the effect of shows and moving around. Still very good."
Market Opinion
For our expert analysis of this vehicle, and over 40,000 more, please sign up for SCM Platinum Database Access.
Vehicle Information
Chassis/VIN #:D55367824
Displacement:0
Odometer:0
Condition:2
Features
Wheels:
Exterior:Black
Interior:Black-Cream
Condition Rating Key
1: National concours standard/perfect
2: Very good, club concours, some small flaws
3: Average daily driver in decent condition
4: Still a driver but with some apparent flaws
5: A nasty beast that runs but has many problems
6: Good only for parts
Is there an issue with this auction record? Click here to let us know.