1904 Delaugère et Clayette 24hp Type 4A racer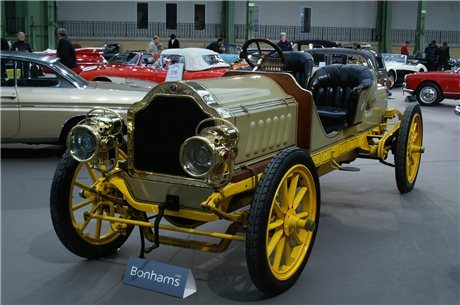 Basic Information
Car Details:1904 Delaugère et Clayette 24hp Type 4A racer
Sale Details:Platinum Only
Auction:Bonhams, Bonhams Retromobile on February 5th, 2011
Lot #:Platinum Only
SCM #:168909
Condition Description
A large raceabout with a recent body and big, torquey 4-cyl. Dual chain drive. Very good condition overall, aside from dry tires. Mixed wood-steel frame looks strong. Gorgeous Ducellier brass headlight, grille scratched. 4-plunger oiler. Engine bay spotless. Eligible for the London to Brighton.
Market Opinion
For our expert analysis of this vehicle, and over 40,000 more, please sign up for SCM Platinum Database Access.
Vehicle Information
Chassis/VIN #:205
Engine Type:I4
Transmission:4 Spd Manual
Displacement:6300 cc
Induction:1-bbl
Odometer:9,035
Condition:2
Body Style:racer
Features
Wheels:Spokes
Seats:Bucket
Exterior:gray & yellow
Interior:black vinyl
Condition Rating Key
1: National concours standard/perfect
2: Very good, club concours, some small flaws
3: Average daily driver in decent condition
4: Still a driver but with some apparent flaws
5: A nasty beast that runs but has many problems
6: Good only for parts
Is there an issue with this auction record? Click here to let us know.