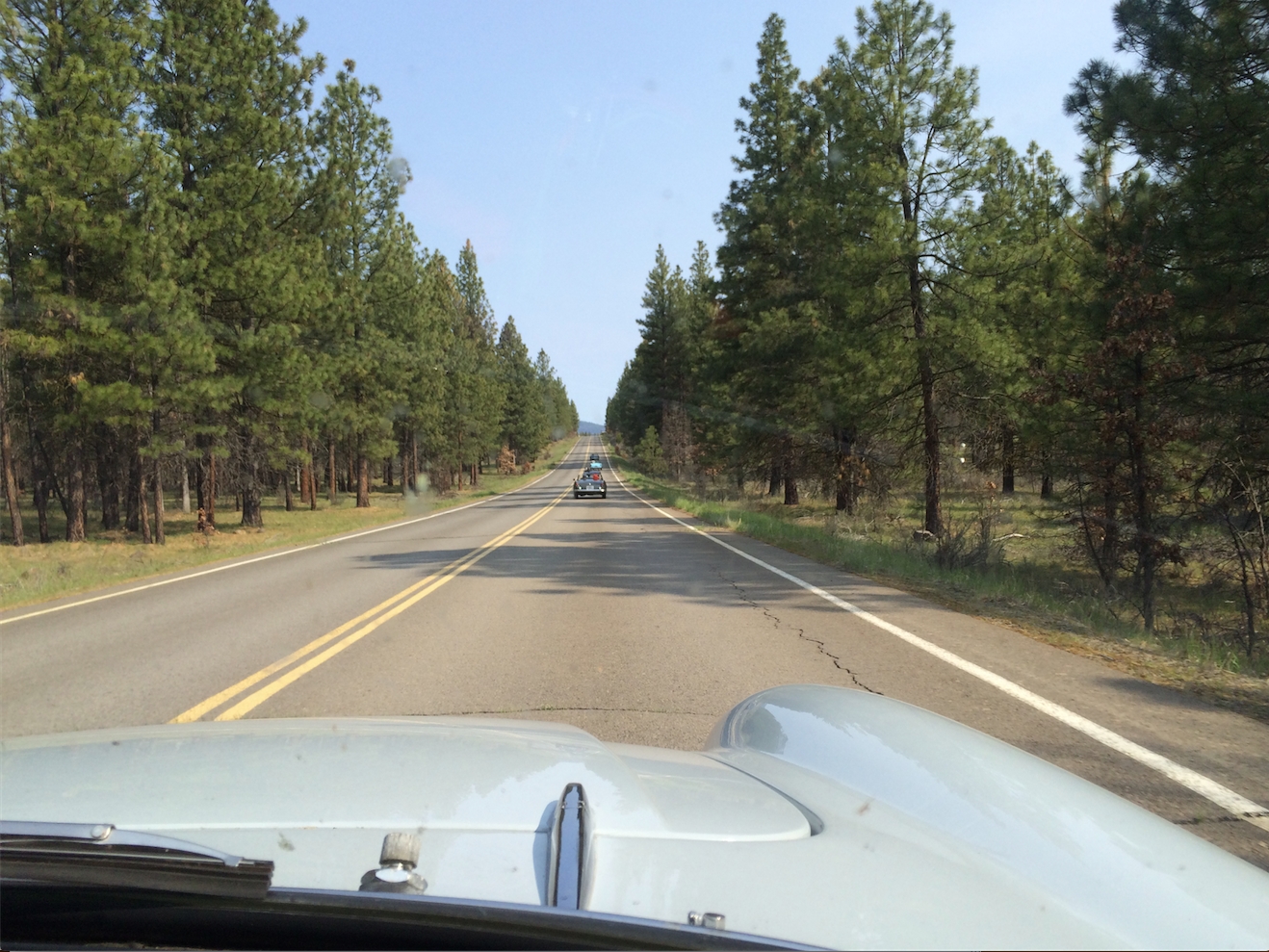 Sometimes all the pieces just fit together.
Each year, the Alfa Romeo Owners of Oregon (AROO) begin the spring touring season with the "The Old Spider Tour." The event originated as a tribute to club founder and longtime newsletter editor Bob McGill and his wife Margaret, and it always takes place around April 19 — the day McGill bought his beloved French Blue Giulietta Spider Normale in 1958.
Alfa owner Eric Roe organized this year's run. The one-day trip began east of Portland at Lewis and Clark State Park, at milepost 18 on Interstate 84.
I had Nasko prep my 1965 Giulia Spider Veloce, a car that has been a part of my family for more than 30 years. He changed the oil and filter, tweaked the twin Weber DCOE 40s and installed a new fuel-level sending unit.
My navigator Lilly Pray arrived from Boulder, CO after driving through a swirling snowstorm to get to the Denver airport. She welcomed Oregon's sunny, 79-degree forecast.
I also invited two good friends from the Round-fendered Volvo Club, Dean Koehler and Peter Eulau, to come along in SCM's 1967 Duetto. The car is in fine fettle and due for some exercise.
We met at the SCM garage in Northeast Portland at 8 a.m. We pumped up tires, checked fluid levels, put tops down and set out for the day's adventure.
There were more than 20 vintage Alfas at the start point. I doubt many Alfa clubs in the country can boast so many vintage cars in tour-ready condition.
AROO defines "Old Spider" as any Giulietta or Giulia from the years 1956–65 — the 750 and 101 Series cars. There were a large number of Duettos and later Spiders as well, and all Alfas are welcome.
SCMer Kevin Blount brought his nicely finished black 750 Spider Veloce, and good friend Dave Salvadore had his Giulietta Sprint Normale. SCM "Special Ops" Manager Reid Trummel was there in his red Duetto. SCMer and racer Denny Pillar drove his red Duetto with Stu Moss as navigator. Mark and Barbara Carpenter were there in their gray Giulietta Spider Veloce. The much-loved McGill blue Alfa was there – it is currenty in the stewardship of Bill Eastman.
Eric made a brief presentation about the day's route, and then we were off.
The route was as spectacular as the weather. We took back roads up to Government Camp on Mount Hood, and then took Oregon Route 43 and 48 to the small towns of Wamic and Dufur.
Eric led the tour in his 1,300-cc Spider Veloce and maintained a brisk pace. Lilly asked if we ever worried about the highway patrol. I replied that just because it seemed like we were going fast didn't mean we actually were.
Seventy-five mph in a 50-year-old car with skinny tires and pathetic brakes is an invigorating ride, and to the uninitiated, perhaps slightly terrifying. We'd have gone faster in SCM's Porsche 911 Turbo, of course, and we would have spent our time fiddling with the a/c and the satellite radio — but we wouldn't have had more fun.
It's been a year since I last spent serious seat time in the Giulia, and I was reminded what an edgy, fun-to-drive car it is. The Conrad Stevenson-built engine absolutely sings when it hits 5,000 rpm, and like a soprano is happy reaching 6,000 rpm high notes time and time again.
Driving in the Oregon backcountry in the middle of a caravan of 50-year-old Alfa sports cars was a visual and visceral treat.
Old Cars and Old Roads
The experience reaffirmed my philosophy about driving old cars in today's world: I strongly believe that the right place for old cars is on lightly traveled two-lane roads — the roads these cars were designed for.
Such an environment rewards thoughtful driving. With a 1,300-cc (80-ci) engine or 1,600-cc (98-ci) "big block," you have to anticipate up-and-down shifting points. You can't muscle your way through a turn, as you don't have any muscle to work with.
We in Oregon are fortunate to have so many roads, with such varied terrain, within a few hours of downtown Portland. In one day we experienced the Mount Hood National Forest, the high desert of southern Washington and the Columbia River Gorge National Scenic Area.
Our route included a stop at the White River rest area, where we took a short walk down to the picturesque White River Falls. In this time of increasing concern about the global water supply, seeing these falls was a reminder of just how fortunate we are in the Pacific Northwest.
After a lunch stop that included a celebratory Alfa Romeo cake, Lilly and I swapped cars with Peter and Dean and set off in the Duetto. It was a vastly different car.
I owned a 1967 Duetto when I was 19 years old and a sophomore at Reed College. Black with a white interior, it was three years old and had 50,000 miles on the odometer. I remember paying $1,800 for it — I worked all summer to earn that much money.
It was my daily driver for the next two years, and I put 15,000 miles on it each year. It was delightful and competent in every way. I even bought a ski rack for it and would drive it to Mount Hood several times a week.
Each time I slide behind the wheel of my current Duetto, I'm reminded of what a competent car it is. However, while it may be a great car, it doesn't have the eagerness or excitement attached to it that the Giulia Spider Veloce does. The two cars' 1,600-cc engines are similarly sized, but the Spider Veloce engine is more highly tuned from the factory.
The Spider Veloce is lighter as well, and with a shorter wheelbase. So it has a choppier ride but is more responsive to steering input.
This was Lilly's first time in a vintage Alfa Romeo, and she noted how the Duetto seemed like a smoother, more relaxed car. It is. But I was very happy when I got back behind the wheel of the Giulia Spider Veloce for the last leg home.
We switched cars at the Bridge of the Gods and drove the last 40 miles into Portland.
The heavy traffic on I-84 westbound reinforced what a horrible environment modern freeways are for old cars. The roads are full of giant trucks and SUVs motoring along at 80-plus mph. Add to that the drivers who are clearly texting or talking on their phones, heedless of their responsibilities as drivers. I will do nearly anything to avoid driving an old car extended distances on an expressway.
I dropped Lilly at the airport for her return flight to Denver and pulled the Spider Veloce into the SCM garage. Dean and Peter had already returned the Duetto.
I noted a few items to address: There was a small puddle of antifreeze in the driver's footwell of the Duetto. (Since Nasko just replaced the heater, a leaky hose is the likely suspect.) Also, the Duetto's idle was a little high — around 1,500 rpm. The gas gauge on the Giulia Spider Veloce worked fine for me in the morning, but in the afternoon Dean reported that it seemed stuck at ¾ full. I'll have Nasko look at that as well.
Nearly 300 miles is a lot in one day — especially on back roads in an old car. However, as an old-car guy and an aficionado of small-bore engines coupled to excellent gearboxes, it doesn't get any better than Sunday's roads.
Thanks to Eric Roe and AROO for doing the legwork necessary to make a tour like this happen. I'd also like to give an Italian high-five to all the other vintage Alfa owners who brought their cars out.
On May 16, the Alfa Romeo clubs of Oregon and Washington are hosting a joint overnight tour in the area of Ellensburg, WA. Lilly is flying out to navigate, and I'm hoping to take the 1958 Sprint Veloce.
It is only through use that we get the full measure of pleasure from our old cars. I look forward to seeing you on the road.
(To view my Facebook album with photos from this tour, click here. You do not have to be a Facebook member to view them.)