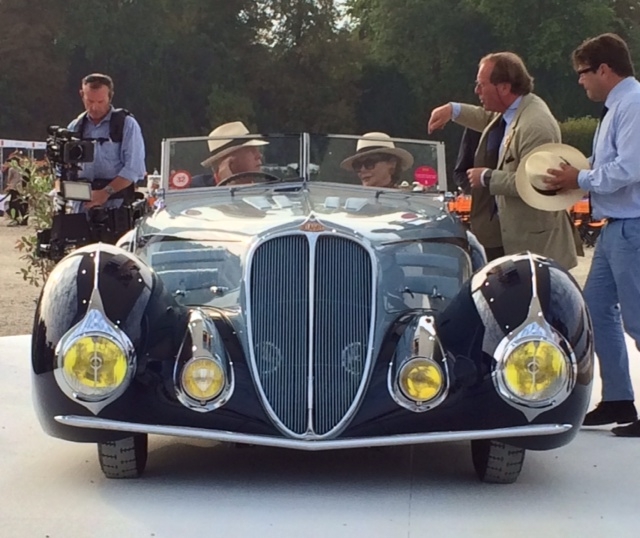 I am on the plane home from the inaugural Chantilly Concours d'Elegance, and I feel a little bit like a gearhead Cinderella having to leave the ball. Participants began arriving at the Chantilly Chateau, located 35 miles north of Paris, on Friday, September 5th. Cars were unloaded the morning of the 6th, with many of them participating in a 100-km tour. The welcome dinner was that evening, and the concours itself was held on Sunday, the 7th.
For the past three days, my world has been a succession of Bugattis and Alfa Romeos, three-star Michelin chefs, paintings by Poussin and Botticelli, and horses trotting down the aisle during lunch.
Tour Auto and Le Mans Classic founders Patrick and Sylviane Peter organized the Arts and Elegance celebration, and Richard Mille watches was the prime sponsor.
While Europe is home to some of the greatest vintage car events, from Goodwood to the Mille Miglia, first-rate concours are far and few between.
I was honored to be invited to be a judge; of the 40, just three were from America. I joined SCM Contributor Murray Smith and noted collector (and SCMer, of course) Bruce Meyer. Head judges were Patrick Peter and good friend and emcee extraordinaire Alain de Cadenet.
The class I judged was Sports and Race Cars from the Interwar Period, 1919-1939. My fellow judges were German journalist and racer Nicola von Donhoff and classic car authority and dealer Christoph Pund.
Our class included a 1928 Bentley 4 Litre, a 1930 4 1/2 Litre Supercharged and a 1930 Speed Six ("Old Number 2", one of two Le Mans team cars). There was an 1932 Alfa Romeo Monza once used as an ice-racer in Sweden, a 1931 Spider Pinin Farina-bodied 8C 2300 just out of restoration, a one-off Mercedes 1933 380 roadster with a body by Erdmann and Rossi that was also freshly restored, and a quite cute 1934 Riley Imp with Le Mans history. Rounding out the class were three French cars: a 1936 Talbot Lago T150 C Competition, a 1938 Delahaye 135 Special Competition with body by Pourtout and a 1937 Peugeot Darl'mat Special Sport Roadster, also bodied by Pourtout.
Our judging involved some heated discussions around the common European opinion that fully restored cars, like the PF Cabriolet and the Mercedes 380, are really "over-done" and that preserved cars, like "Old Number 2," are preferred.
However, I pointed out that both the Delahaye and the Talbot had lost their original bodies, worn other coachwork, and then had their original bodies re-created. The attractive, well worn "patina" was a false look.
Even the Bentley Speed Six carried a completely repainted front section, while having the original, and quite weathered fabric body work in the rear.
There's no one right answer to what is the "correct" level of restoration, and how simulated patina should be considered at a concours. I found the discussion invigorating, and in the end we agreed that the Speed Six was Best of Class, and that the Mercedes 380 and the Alfa Monza would receive Special Prizes.
Best of Show was appropriately enough a French car: Peter Mullin's stunning 1935 Delahaye 135M phaeton grand sport, with coachwork by Figoni and Falaschi. The fact that it came from an American collection only emphasized the international nature of this event.
The Chantilly Concours d'Elegance was an impressive first effort, with a stunning location on the grounds of the Chantilly Chateau, top-flight cars from Europe and America and a very full agenda. I'm sure we can look forward to more events like this in the future from Patrick and Sylviane.
(To see dozens more photos from FB, click here.)