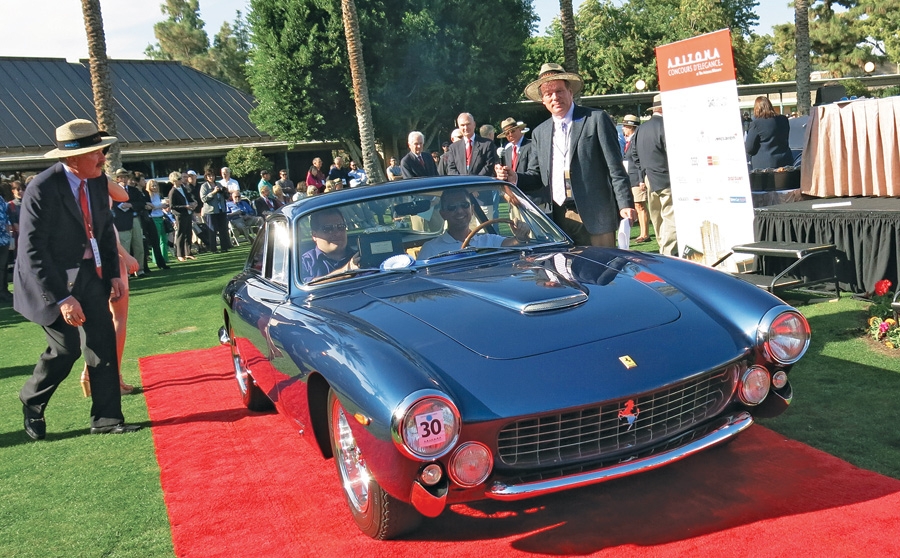 I love the way the collector-car year launches. Arizona in January is like Mardi Gras, with cars to be auctioned replacing floats. The procession of delectable automobiles is non-stop, with the six big auctions pulling out all the stops.
For me, the action started earlier this year than usual. It included a quick trip to London for a dinner at Bonhams' new headquarters at 101 New Bond Street — a most tony address, in a most tony part of a tony city. I was fortunate enough to stay at the Royal Automobile Club. For a blue-jeans-bred, West Coast boy, putting on a tie to have breakfast was an unusual occurrence. Wanting to have a traditional English breakfast experience, I ordered kippers — smoked herring. You can pass.
Bonhams CEO Robert Brooks and historian Doug Nye presided over the evening. They unveiled a Ferrari whose history has been shrouded and cloudy for decades, and is now finally coming clear in preparation for it being offered for sale at no reserve. A 1954 375-Plus, s/n 0384AM, it is one of six made — and only four survive. Its sister cars won both the Mille Miglia and the Carrera Panamericana outright, demonstrating that this is indeed a potent machine.
The car will be featured at the Bonhams sale at Goodwood on June 27, and we'll have more information as we get closer to the event. Brooks and Nye are confident that their research will provide bidders with the level of comfort necessary to raise their paddles up through the eight-figure level (I predict the car will bring $15m–$20m).
I do have one suggestion — Ferrari Classiche has not verified the car. While I understand that Classiche certification is viewed less enthusiastically by many European parties than those in America, nonetheless, it is the "gold standard" stamp of approval that proclaims that a car is genuine. When the bidding is expected to be stratospheric, for a car with a previously disputed history, I believe it would be money well spent to get that final stamp of approval.
I had arrived in London on a Wednesday, had the dinner meeting on Thursday and was on a 747 to Arizona on Friday afternoon. Luckily, British Airways has a direct flight from Heathrow to Sky Harbor, so my Kindle and I got reacquainted during the 10-hour trip.
The Arizona Biltmore and a concours
Less than a year ago, Arizona car collectors Kevin Cornish, Ed Winkler and Chuck Stanford audaciously decided to put on the first ever Arizona Concours d'Elegance. All of the cognoscenti agreed that the time was too short to put on a first-rate event, and we told Kevin and the gang to plan for 2015. Luckily, they paid no attention to us.
I was fortunate enough to be asked to participate as emcee, and the outcome of the event, held on January 12 at the Arizona Biltmore, was nothing short of spectacular.
I've had the opportunity to participate as an announcer and emcee in many car shows, from local show-and-shines to the Pebble Beach Concours d'Elegance. I can say that the organizational structure of the Arizona Concours was absolutely first rate — from the pre-event dinner, to the staging of the cars, to the awards, to the afterglow party.
There were extraordinary cars on display, including a Cobra Daytona coupe, a bevy of important Maseratis, including a 150S, a 300S and a Birdcage. Even better, more than $23,500 was raised for the Make-A-Wish Foundation, which grants children with terminal illnesses a chance to make a dream come true. The foundation had been hoping for $7,500, which would fund one wish. Author Clive Cussler and his wife, Janet, contributed $7,500, which helped push the total upward, and another $3,000 gift by a thoughtful collector at the afterglow party completed the generous contributions of the day.
The winner of the Best of Show award at the concours was a 1925 Hispano-Suiza H6B Cabriolet de Ville owned by SCMer Donald Nichols of Lompoc, CA.
Next year's event is scheduled for January 11. I will be returning as emcee, and I look forward to seeing you there. For updates, go to www.arizonaconcours.com.
Sold! Sold! Sold!
Monday was my day off in Arizona, and I made a quick trip to the aviation boneyard known as the Pima Air and Space Museum in Tucson. If you think it is difficult to find a place to garage your cars, imagine having B-52 bombers and P-51 fighters to display. The museum itself, as well as the attendant tour of mothballed warplanes of current vintage, including F-15s, at the nearby 309th Aerospace Maintenance and Regeneration Center, was breathtaking in its scope.
Then it was auction time. I spent most of my time under the Barrett-Jackson tent, as we were shooting new episodes for "What's My Car Worth." They will show on Velocity starting in July. But I had a chance to visit Gooding, RM, Bonhams, and Russo and Steele. The mood in all the tents was buoyant, and strong, high-quality cars continued to bring strong, high-quality prices.
The proof in that pudding is the overall sales total of $253m, up 12% from the $225m of Arizona 2013. Overall sell-through rate was 84%, the same as last year, and average price per car went from $100k to $108k.
It wasn't explosive growth, but it was forward movement of the market in an almost calm, predictable way.
I'm always asked if we are in a bubble. I don't believe so. I continue to maintain that cars, as collectibles, have been underpriced since 1991, and only now are showing the accumulated appreciation you would have expected. Also, it is the historically important cars that are showing the strongest value increases, which makes sense as people of means compete for scarce objects. Ordinary, high-production cars are flat or falling, which is as it should be as well. Most cars are just cars, and only a very few cars are special.
The next mega-event on the collector-car circuit is Amelia Island, with RM, Gooding and now the Hollywood Wheels auction at the Festivals of Speed. Few places on Earth are as pleasant as Amelia for watching gearheads throw money at high-end cars. I, along with the SCM gang, will look for you there. ♦