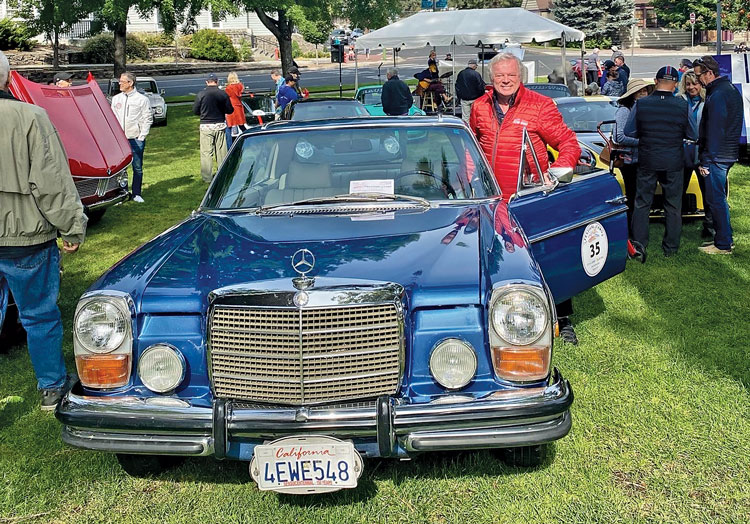 I was recently doing my three-times-a-week stroke and cardio rehab at Oregon Health & Science University.
My post-exercise resting blood pressure is down to 88 over 58. I haven't had those numbers since I was a Juilliard dancer. Mobility and shifting are still challenges, but I persevere.
To while away the time during my sessions, I listen to automotive-related podcasts.
The other day, it was the entertaining "Collector Car Podcast" by Greg Stanley. A specialist for RM Sotheby's, he was reviewing Monterey results, as well as commenting on changes in the Hagerty Price Guide and its index of values.
The podcast got me thinking about the chasm that exists between adding a car to your collection as an investment, and chasing and acquiring a car because it hits your automotive hot button.
As an enthusiast, would you buy a car because of a headline that declared it was sure to go up in value? I never have.
A case in point is my current refurbishment kerfuffle with our recently purchased 1971 Mercedes-Benz 250C.
I did not buy it because it was a "good investment." I found the Paul Bracq-designed coupe elegant, with its unusual C-pillar. While I've owned a variety of Mercedes pontons and W123 sedans, I'd never owned a W114. The engines are robust, the cockpits are roomy, and best of all, they have great air conditioning for our increasingly warm summers.
At a projected $30k all-in, the Mercedes fit within my budget. I plan to drive it on the 2023 SCM 1000, where German cars will be featured.
A one-owner car, it has good bones and is worthy of saving. However, having been used as a daily driver in Los Angeles for 50 years and 216,000 miles, its suspension bits have been "made to work" rather than overhauled as they slowly degraded. The OEM Zenith carbs are a mess, partially due to their emissions-compliant design.
I posted my concerns and thoughts on social media. Unsurprisingly, there have been fierce and fiery differences of opinion among W114 enthusiasts. On one side are those who believe that the only true path is to rebuild the OEM units. Others would replace them with a brand-new Weber setup.
I received a long and thoughtful note from Michael McKinney, who owns Parsifal Classics, a Mercedes-only repair shop in Milwaukee, WI. (As the former Director of Dance for the Portland Opera, how could I not immediately be intrigued by a shop named after an 1882 opera? "Parsifal" is the tale of the quest for the Holy Grail that can only be found by a "pure fool.")
Michael noted that he had replaced the carburetors on his personal 250C some years ago, with satisfying results. He would be glad to send photos of his installation to me if I decided to go that route.
My Holy Grail is modern, efficient carburetion for a car that has lived far beyond its design limits. So, this fool has now set off on his quest.
I enlisted the aid of Portland race-car builder and hot-rod fabricator Chip Starr (www.racecarresurrections.com). Optimizing 50-year-old cars is the kind of challenge he enjoys. I've ordered a complete Weber conversion setup from Pierce Manifolds. List price is just under $800, less than the cost of sending the Zeniths to a specialist.
I pulled the trigger with the same sense of adventure that led me to buy this old car. It's not going to land on any "hot list" anytime soon. Except maybe mine.
Jeff Sabatini, Editor-In-Chief
As SCM begins its 35th year, we have only had four top-of-the-masthead editors. Jeff Sabatini has been two of them. We have never, however, had an editor-in-chief. Until now. Jeff is SCM's first editor-in-chief.
His initial stint with SCM was from 2003 to 2005. His second started in August 2020. In between, his career included stops at The Wall Street Journal, Autoblog and Car and Driver. A gearhead, his irrational bouts of car ownership and refurbishment have included some 35 vehicles, from a 1971 Buick LeSabre convertible he bought at 16 to a 1985 Volkswagen Vanagon Westfalia he Subaru-engine-swapped to the 2000 Mercedes-Benz E55 AMG he recently acquired for our SCM 1000 AMG Invitational.
I first met Jeff at a Barrett-Jackson auction in Scottsdale in 2000. He was my editor at AutoWeek at the time.
We both spent time writing for Jim Cobb, editor of the Autos section at The New York Times. We share a great respect for "Mr. Cobb," as the Times would have put it, as the best editor and teacher a writer could hope for.
Jeff has brought tremendous energy along with industry-seasoned insight to SCM. During the past two years, the magazine has achieved a new level of professionalism, with better writing, design and innovative approaches to thoughtful reportage. SCM membership is at new heights, and support from advertisers has never been better.
As editor-in-chief, he will assume a greater role in decision making for all aspects of SCM, from member relationships to social-media enterprises to SCM 1000 tours. Most important, he will continue to challenge us to be forward-looking, ensuring that SCM remains the definitive publication of the collector-car world. ♦