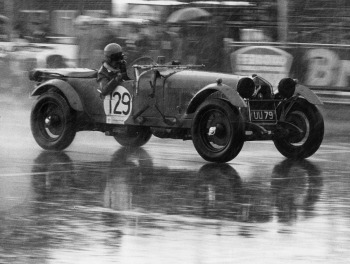 Alfa Romeo UU 79 has been in the same ownership for the last 40-plus years and has remained a regular competitor at all manner of events both at home and abroad during that time.
It enjoyed an illustrious start in life, winning the 1929 Irish Grand Prix Eireann Cup at Phoenix Park in the hands of former Russian Imperial Guard officer Boris Ivanowski. This was achieved at the expense of Britons Glen Kidston and Henry Birkin, whose Bentleys were second and third respectively.
This iconic road racer is one of the most original in the world and will be offered on the button and ready to go with an estimate upon request.
How do you get everybody to the church on time?
Buy a fleet of specialist wedding cars, that's how! No less than 12 will be on offer in H&H's March sale and range from such standard British fare as a MKII Jaguar and 420G, to a very fine Rolls-Royce Silver Cloud III: the latter two are finished in metallic burgundy over champagne. Still rarer is the equally pretty Bristol 403.
There is a pair of RHD 1939 McLaughlin Buicks (one a limousine) and a LHD 1963 Riviera finished in cream with burgundy leather trim. It is in outstanding condition throughout. A 1931 Ford Model A Victoria Coupe and Hudson 8 complete the American selection.
Of very different appeal is the black stretched Range Rover. Believed to have cost £139,000 when new, it was built for the Sultan of Brunei and features all the creature comforts you might expect. Displaying a mere 14,000 miles, it is virtually as good as new.
Further information on this and all other H&H sales can be found at www.classic-auctions.com or by calling +44 (0)1925 730630.