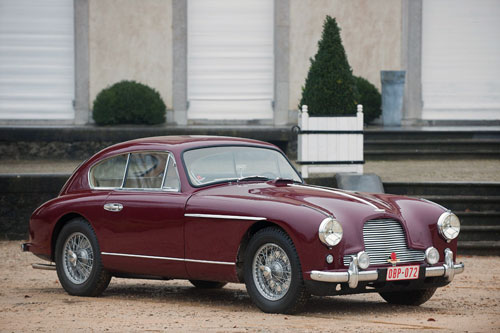 A 1955 Aston Martin DB2/4 Sports Saloon, which was owned by King Baudouin of Belgium, who reigned in Belgium from 1951 until his death in 1993, is to be sold at Bonhams' Paris sale of Motor Cars at the Grand Palais on 5 February 2011. The car, which was supplied new to the King in February 1955, has attracted a pre-sale estimate of $312,235 – $374,682.
King Baudouin was renowned for his love of fast cars. As well as having this Aston Martin, described in Autocar (1953) as 'an expensive car designed to cater for the connoisseur of sports cars who is not limited by financial considerations', he also owned a Porsche Spyder and was passionate about Maseratis.
Accompanied by photographs of King Baudouin with his brother, the present King Albert II, the car is in concours condition following its complete restoration to original specification between 2001 and 2008.
A 1956 Bentley S1 Continental Sports Saloon owned by another well-known Belgian figure, the financier, Baron Empain, is also to be offered in the sale. Estimated at $312,235 – $390,294, the car was delivered new to Baron Empain in 1956 and kept until 1960 when he sold it to a family member, Count d'Arschot.
Pre-war greats in the sale include two magnificent competition cars, the 1930 Alfa Romeo Grand Sport Zagato, first raced by the political activist and amateur racing driver, Luigi Scarfiotti, in the 1930 Mille Miglia (estimate $1,483,118 – $1,873,412); a 1929 Alfa Romeo Supersport ex-Campari (estimate $1,170,882 – $1,483,118); a 1933 Rolls Royce Phantom II Continental James Young (estimate $468,353 – $546,411); and a 1937 Mercedes-Benz 540K cabriolet C (estimate $702,529 – $936,706).
Additional highlights include a 1966 Porsche 906 Carrera 6 (estimate $936,706 – $1,092,823); the unique 1961 Cadillac Eldorado 'Jacqueline' by Pininfarina (estimate $312,235 – $468,353); and a 1940 Delahaye 135 DHC Antem (estimate $288,817 – $348,142).
As previously announced, the sale also includes the 1933 Bugatti Type 51 Grand Prix Two-Seater owned by the late Fitzroy John Somerset, the 5th Baron Raglan (1927-2010). Lord Raglan, Patron and former Chairman of the Bugatti Owners' Club and trustee of the Bugatti Trust, bought this car in 1979 and restored it himself over the next two and a half years, subsequently racing it for 20 years. It has attracted a pre-sale estimate of $1,561,176 – $2,185,647. Also from the Estate of Lord Raglan, the sale will offer his 1930 Bugatti Type 46 Cabriolet, with coachwork by Figoni, which has been estimated at $390,294 – $468,353.