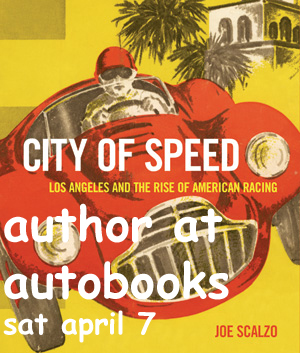 "CITY OF SPEED" Joe Scalzo's newest book slams its way onto the Autobooks-Aerobooks shelves very soon and Joe will join us to autograph this wonderful, wild-assed, ring cycle, wham-bam (thank you ma'm), screamer of a nuanced notebook of the racing life in LA.
If Joe pulled any punches in this smokin' story of the new Eden that was Los Angeles in the early days of motorsports, they had to be the ultimate phantom blows.
This book leaves no one unnoticed and tells tales of the tape that have only been whispered of in secret places. Readers should be required to wear seatbelts and a HANS device.
Mister Scalzo uses the first person in this book because he was there and was formed by the goings-on that he unashamedly reports on in this high-strung, bored, stroked, blown, fire-breathing book that's sounds like it sucked a REALLY big load of pop.
He'll be here at AB in person on April 7 … Miss this author at your own peril.
DOUG STOKES
AUTOBOOKS-AEROBOOKS – BURBANK
(818) 845-0707
Hey! check out what's happening at the shop: www.autobooks-aerobooks.com