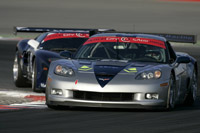 Old Lyme, CT. November 2007 –-After an incredible season that started with a podium finish at Silverstone, followed by three first and three second place finishes across Europe and ending with a hard-fought fourth place at Dubai, the three-car Martini-Callaway Z06.R Corvette race team has captured the 2007 FIA GT3 Team Championship. Drivers Luca Pirri and Jurgen von Gartzen were also named runners-up in the GT3 Driver's Championship.
Built and campaigned by Callaway Competition GmbH in Leingarten, Germany, the Z06.R is a homologation special that proved to be a world-beater in FIA competition against exotics including Ascari (BMW V-8-power), Aston-Martin, Ferrari, Lamborghini, Maserati and Porsche. The three-car Martini-Callaway Corvette team achieved the victory with six fantastic drivers behind the wheel, including Pirri and von Gartzen, Uli Berberich-Martini, Klaus Ludwig, Jiri Skula and Martin Matzke.
"The Corvette is a very exciting platform, a true world-class sports car," says Callaway Competition Director and Team Manager Ernst Woehr. "This was a hard-earned victory for the Callaway team, from the drivers and crew members to our engineering partners at the Callaway Connecticut facility. We took an impressive street car and transformed it into a world champion."
The winning cars started life as stock Z06 Corvettes, and Callaway Competition, which has experience in FIA road racing at LeMans and other top European tracks, converted the 500hp sports cars into competition- legal racers. Woehr and his Callaway Competition partner Giovanni Ciccone were well-versed in the latest Corvette technology long before the Z06 Corvettes cars rolled into the Leingarten facility. Their partner company, Callaway Cars in Old Lyme Connecticut, performed engine, exhaust and air intake tests on a Z06 stateside. This provided the Callaway Competition baseline performance information that was applied to the racecars.
The first three Corvettes were stripped down and rebuilt as GT3 racing machines, followed shortly by several more for privateer efforts. There are currently 10 Callaway-built Z06.R racecars competing in the FIA GT3 Championship, the ADAC Masters and the Belcar series. Many of the technologies and performance modifications utilized in race program are also employed on Callaway's line of Corvette-based street cars.
"The FIA Series Championship is particularly good for us as a road car manufacturer because we get to compete nose to nose with the brands that Callaway Cars sells against: Ferrari, Aston Martin, Lamborghini and Jaguar," says company founder Reeves Callaway. "To beat them on the track, in such a competitive arena speaks volumes about us being the genuine article. Note that this series is ultra competitive all through the field -the first ten cars usually finish under a blanket. I wish the format were brought to the USA."
Callaway Cars has a long history of utilizing competition vehicles to develop new high-performance technology for the street. From the 254mph Sledgehammer to the LeMans-proven Callaway C7 and C12R , Callaway Cars and Callaway Competition have refined the art of high performance engineering. Currently celebrating its 30th year in business and 20th year of working with Corvette, the company currently offers four street cars in the U.S. and Europe, including the supercharged Callaway Corvette, and three models in the distinctive C16 line: Coupe, Cabrio, and Speedster.