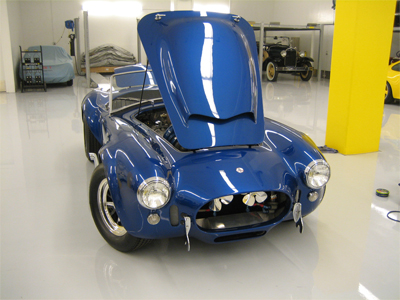 Irvine, CA (January 2007) – When one of the world's most powerful and exclusive automobiles – Carroll Shelby's personal Shelby Cobra 427 "Supersnake" – was consigned to the Barrett-Jackson Auction, it was in urgent need of paint revitalization. Meguiar's, the century-old leader in automotive appearance care, received the call. Within days the four-decade old Supersnake was fully detailed and brought back to life using Meguiar's car care products. Dazzlingly detailed, the car sold for an astounding $5.5 million, shattering the previous Barrett-Jackson sales record by $1.5 million and becoming one of the most expensive vehicles ever sold at auction.
"We were contacted by the car's owner, Harley Cluxton, III, a week before the auction because there was a major issue with the driver's side front body panel," said Stephanie DeAnda, Area Sales Manager for Meguiar's, Inc. "The rare, one-of-a-kind supercharged Cobra had been painted recently, but its refinished aluminum body panels still bore deep swirls, scratches and light sanding marks. It looked like a section of the car still needed to be buffed. Since the paint was still fairly fresh, we decided to use our new So1o™ "One Liquid" System and restore the entire car."
After the Solo System restored luster to the car's finish, the wheels were polished with Meguiar's Hot Rims® Mag & Aluminum Polish, and Hot Shine™ Tire Gel added a layer of protection and gloss to its tires. The Supersnake's engine compartment also was detailed using a combination of Meguiar's dressing products, and its engine block was polished to a brilliant concours finish.
Finally, the car was driven to the auction, a few miles from its former home, surrounded by two police escort vehicles and a video crew who documented the proceedings. Once the Supersnake arrived at West World, the Scottsdale auction facilities, Meguiar's personnel layered two additional coats of Meguiar's NXT Generation Tech Wax Paste on all of its painted surfaces and re-touched the car's wheels, tires, and engine bay.
Thanks to the quick work of Meguiar's dedicated staff, the twin-supercharged, 800-hp Shelby Cobra 427 Supersnake – one of only 19 production competition Cobras ever built – and the only remaining of the two supercharged examples, was ready for its public debut. Clearly the highlight of the six-day auction, the Meguiar's-prepped Supersnake was hammered down for a cool $5.5 million to another Arizona-based collector.
"When Carroll Shelby first saw his old car roll across the podium, he leaned over and whispered 'Shoot Cluxton, what the heck did you do to that paint?'" said Harley Cluxton, III, the Super Snake's previous owner. "I told him the only products that touched that car from the moment it came out of storage to the last crack of the gavel were from Meguiar's. I'm dead serious when I say that Meguiar's products played a key role in this historic moment in sports car history."
Meguiar's, the century-old leader in automotive appearance care, offers serious car care for car crazy people around the world. Its next generation of technology redefines quality and performance. Chosen by 22 out of 25 "Best of Class" winners at the 2006 Pebble Beach Concours d'Elegance, Meguiar's provides highly specialized products for every automotive surface, including paint, wheels, tires, and interiors. As part of its passionate support for the car hobby, Meguiar's created "Car Crazy Television," seen weekly on SPEED and "Car Crazy Radio," which airs weekly in over 120 markets nationally. For more information, please call Meguiar's at 800-347-5700, see Meguiar's at wwwmeguiar's.com or www.carcrazycentral.com, or join their online discussion forum at www.meguiarsonline.com.