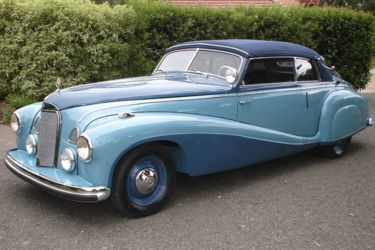 March 15 – A unique 1948 Mercedes-Benz A320 two-door cabriolet that was built as a design study but never went into production, sold for $350,000 at Shannons 11th annual Melbourne Motor Show Auction on March 12 in front of a huge crowd of around 1,500 people at the Melbourne Exhibition Centre.
Despite having 20 per cent fewer lots available than in previous years due to space limitations, record results were achieved for a Melbourne Motor Show auction, with total sales of more than $2.7 million and an outstanding clearance rate of over 90 per cent of all lots.
Of this total, around $600,000 was spent on vehicle number plates, with five of VicRoads' new Signature Plates alone selling for a combined total of $154,000 ahead of their public launch on March 13.
The sale of the rare Mercedes-Benz was a highpoint of the auction. The imposing two-tone blue totally -restored vehicle, which was discovered in derelict state in Indonesia in the 1980s and then brought to Australia, was designed to revive Mercedes-Benz's image as a luxury carmaker following the devastation of its German factories in World War II. However it was overtaken by the development of the more technically advanced 300-series models and never went into production.
However it was the following lot in the auction – the 1930 Invicta S-Type Low Chassis previously owned by Shannons founder the late Robert Shannon – that brought the biggest crowd reaction.
In an emotional presentation that saw both Shannons National Auction Manager Christophe Boribon and veteran auctioneer Bill Wellwood choke back tears, the Invicta was passed in for $950,000. However a potential buyer was discussing its sale with Shannons following the auction.
A totally-restored and mechanically correct 1971 Chrysler charger R/T E38 coupe sold for an Australian record price of $140,000, eclipsing the previous record of $128,000 set by Shannons for a Charger R/T E38 in similar condition at last year's Shannons Sydney Motor Show Auction.
By comparison, a 1969 Holden Monaro HK GTS 327 coupe in excellent condition sold for $120,000, a 1968 Monaro HK GTS 307 coupe brought $50,000 and a 1972 Ford Falcon XA GT sedan went for $34,500.
Other Classic Australian vehicles demonstrated their rapidly rising values at the auction with some outstanding results.
A totally restored 1956 Holden FJ Utility sold for the Australian record $61,000 after a lengthy battle between two determined floor bidders drove its price to more than double its pre-auction high estimate of $28,000.
Underscoring its value, an unrestored one-owner 1957 Ford Mainline Utility that had been garaged from new and was believed to have travelled just 40,000 miles, then went for $33,000 amidst vigorous applause.
An immaculate one-owner Ford Fairlane ZC 351 V8 sedan that had travelled just 48,500 miles since it was purchased new from Jack Brabham Ford in Sydney in 1969, sold for $21,000 after feverish bidding.
Emphasising the strong interest in vintage vehicles at the auction, a superb 1927 Rolls-Royce Phantom I saloon once owned by an Austrian aristocrat who served as a spy for Adolf Hitler in the early 1930s sold for $100,000. The vehicle had been driven to Melbourne from the Hunter Valley by its vendor to substantiate its running condition.
Number plate investors were out in force at the auction, with feverish floor and phone bidding driving most lots well above their pre-auction estimates.
Top price of $75,000 went to the three-digit Victorian vitreous enamel plate '765', followed by $70,000 for the big-block plate '429'and $63,000 for '353'.
Amongst the four and five-digit plates, '2123' made $34,000, just ahead of '8168' ($32,000) and '9.444' ($31,000), while '30.000' and '66.111' were the best of the five digit plates, each selling for $27,000.
The new VicRoads 'Signature series' personalised numberplates did exceptionally well on the eve of their public release, with 'GT' selling for nearly three times its high estimate for $53,000, 'RR' and 'SS' each brought $36,000, 'GT.0' sold for $17,000 and 'RT' went for $12,000.