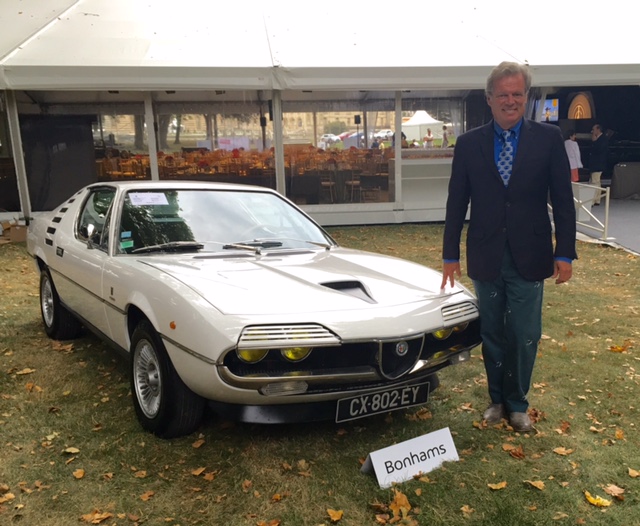 The French just do things differently. This is my third year as a judge at the Richard Mille Chantilly Arts & Elegance Concours d'Elegance, and it is a delight to be back.
By now I have my routine. Fly overnight from Portland on Wednesday, and arrive at Charles De Gaulle Airport early on Thursday. Check into my hotel Thursday around noon, and catch the train into Paris. Wander around — like the wide-eyed tourist I am — during the afternoon, and in the evening eat at someplace wonderful. This year, it was Le Sergent Recruteur on the Rue St. Louis.
On Friday, I visit the Bonhams auction preview, on Friday night enjoy the welcoming dinner and on Saturday morning I watch the cars depart on the tour. On Saturday afternoon, we have our judge's meeting. On Saturday evening, the Bonhams auction is held. The black-tie dinner follows that. Early Sunday finds us on the show field.
Last year I was assigned "Custom-bodied Citroëns," which was quite educational for an Alfa Romeo boy, and this year the organizers, Sylviane and Patrick Peter, have stretched me even further, giving me the "Steam Cars and Improbable Coachwork" class. I'm assuming I can FaceTime good friend and steam car aficionado Jay Leno with any questions I might have about authenticity.
While Portland to Paris is a long way to fly for a weekend's activities, the Chantilly event is worth it. In just three short years, it has achieved international prominence — both for the quality of the cars it attracts and the superb organization that Patrick and Sylviane bring to the event.
With me this year are SCM contributor Philip Richter and his wife, Sarah Willeman. They are both accomplished riders, and Philip was the winner of the Hampton's Classic the past three years. They took this opportunity to visit two mares and a foal that Sarah keeps in Normandy. While Sarah has ridden competitively at Chantilly, Philip has never been here. So they have an opportunity to combine two of their passions — horses and cars. At dinner, Philip, a late-model supercar fanatic, had a chance to wax enthusiastic about a BMW 850i that a dealer at our table was selling. I pretended not to hear a word.
There was no shortage of Alfas at the Bonhams auction, including a 1600 Spider Normale, a Montreal and a 2600 Spider. The Spider was striking in dark blue over red leather. A Maserati Mistral, a BMW and a Lancia B20GT also caught my eye. And yes, I admit that the restored two-door Land Rover they are offering also made me slightly crazy.
I know that it's slightly irrational to think of buying a car in France — without an inspection — and then shipping it back to Portland and paying the import duties. But again, if this were a rational world, we'd be publishing the Prius Market Letter, and how much fun would that be?
On Sunday night, Cinderella's Ball will once again be over for the year, and I'll head home to Portland. But my car events aren't stopping. In a week, the Alfa Romeo Owners of Oregon is hosting its annual "Red Duetto Tour" (you must have a red long-tail to participate). Two days after that, it's the annual Old Super Tour to the Oregon coast. I'm already stocking up on Dramamine for the kids in the back seat.
You can find car fanatics everywhere in the world; it's especially nice when they are in a wonderful place like Paris. I have only one question – should I come home with the Montreal?