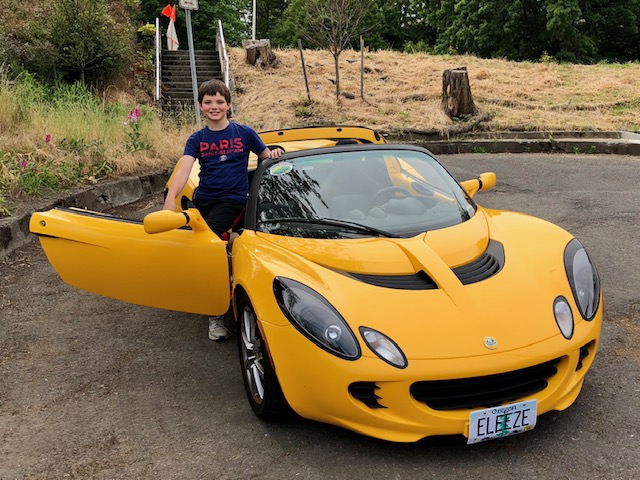 In just over two years, Bradley will be turning 15. In Oregon, that's the when you can get a learner permit. You can drive a car, but you have to have a licensed adult with you.
I've been through this rite of passage five times now — four times with now-grown stepsons. It was 13 years ago that I took Alexandra to the local DMV to get her permit.
I enjoy teaching kids to drive. It requires an inner zen and relaxed approach to motoring. You want the introduction to piloting an automobile to be as positive as possible.
One member of my family then aged 16, was practicing driving my grandmother's prized 1965 Mustang (it was new). They were in the field of a 10-acre ranch. Another family member was coaching him and started shouting that he was "going too fast" and not being careful.
The youngster reacted by freezing up and plowing head-on into a tree — the only tree in the field. That was the style of coaching I would not recommend.
Kids should learn to drive an automatic-transmission car first — and then graduate to manual shifts. There is just so much happening when a kid is first in control of a car. Adding shifting and a clutch to starting, stopping, signaling and looking for cross-traffic guarantees sensory overload.
I have long waited for Bradley to achieve this milestone — Driver's Permit milestone. I had a memory I wanted to relive.
When I was 17, a friend and I tried to drive my 1958 MGA from San Francisco to Chicago for the Democratic National Convention. That was in 1968. I had bought the MGA from a junkyard for $250 (once again I overpaid). I rebuilt the engine using a Chilton manual as my guide. I recall that there were just a few nuts and bolts left over when I was finished.
The trip didn't turn out so well. The trail we left behind included a perforated engine block, an exploded generator and a disintegrated water pump. The latter launched the fan through the radiator.
While I'm sure Hack Mechanic Rob Siegel could have overcome all of these issues without breaking a sweat, they were challenging for a couple of 17-year-old hippies whose tool kit consisted of peace symbols to give to chicks we met.
For a decade, I have thought about buying another MGA and repeating parts of that trip with Bradley. I looked at a few. My check-list included an 1,800-cc MGB engine and a 5-speed gearbox. For under $20,000 there were choices.
But recently I've been reflecting on kind of modern sports car I could get for half that amount. Miatas and Boxsters are out there — with high miles but properly maintained — for $10,000.
Would my trip be any less engaging if Bradley and I were in a Boxster, with a power top, airbags, heated seats, a/c and, most important, assumed reliability? Would we have more fun driving or did we want to be waiting by the side of the road for a tow truck if the 1958 MGA decided to puke some of its internals?
I'm going to abandon the MGA concept, and when the time comes, look for a modern, safer sports car.  We can enjoy the fun of the trip and leave behind the drama.
I asked Bradley his opinion about which car we should drive, Boxster or Miata. He replied, "Dad, did you forget we have a Lotus Elise in the garage already…."
Problem solved.