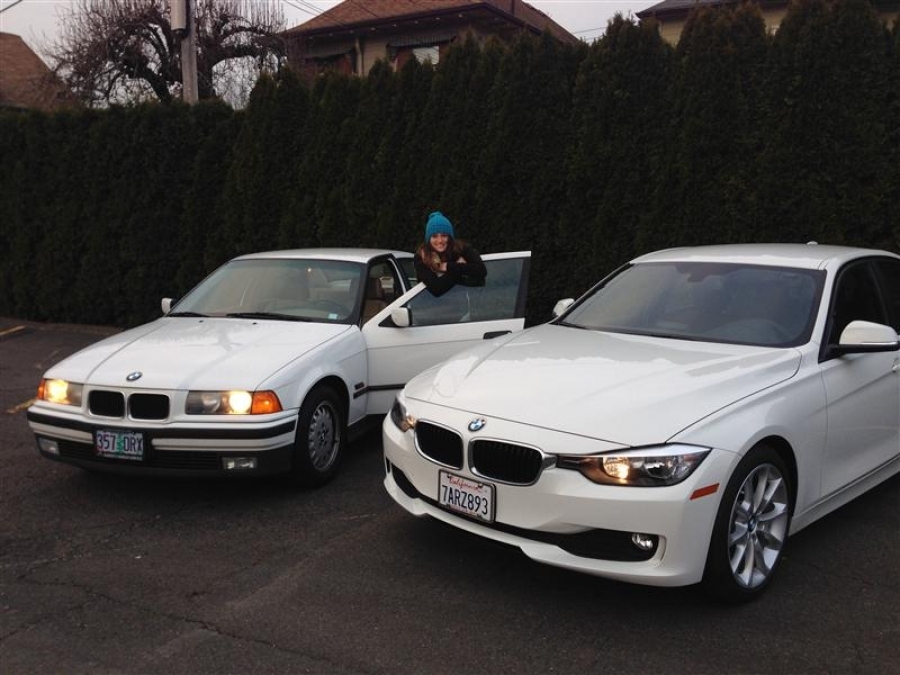 My daughter Alex has had her trusty 1995 318i BMW for more than six years. The car is white over tan with a 5-speed, and Alex has put over 50,000 miles on it.
I find that the 4-cylinder engine is a perfect match for the chassis, offering enough speed for any situation, good gas mileage and low maintenance costs.
The engine is showing its age, with some oil seepage; it takes a quart of oil now and again. Boyd Motor Werks services the car. They are just across the street from the SCM office, and our contact there, Eric Edwards, has always taken very good care of us.
My rule with all cars is to always keep up the maintenance and take care of little things as they occur. The fan motor went out; we replaced it. A window switch went bad; there is a new one. I believe that once you start letting a car go downhill, it disintegrates rapidly.
I treated Alex to an upgraded stereo and subwoofer. The tires are newer, the brakes and cooling system have been attended to, and the a/c blows cold. All of the service records for the past several years are at Boyd.
The leather interior is nearly perfect, with no rips or tears. There is no rust anywhere on the car, and the shut lines are crisp all the way around.
It's not a collectible classic, and it's not a future collectible. It's just a nice example of an affordable BMW from a different era. To my eye, the E36 models have a crisp, pleasing look that is aging well. (Of course, given an unlimited budget, Alex would prefer a brand-new BMW. Here's what she had to say when she tested her car and the current edition side-by-side.)
Alex is now in her second month as an intern in the IT department at Daimler Trucks North America and needs a reliable car to get her there every morning on time.
Failing to Proceed
But the 318i has suddenly decided to become unreliable in a very expensive way.
Last week, following a typical Portland rainstorm, the car refused to start. We had it towed to Boyd's, and they quickly found the problem.
At some point in the distant past, it appears that the passenger's side front fender was replaced, and the weld at the cowl joint was not done to factory spec. In addition, there were leaves on the cowl under the hood, plugging the regular cowl drain holes. When Alex parked her car with the nose facing uphill, water flowed over the weld and dripped directly into the DME circuit board, shorting it out.
The DME chip is hard-coded to the VIN on the car. Further, as an anti-theft feature, the DME talks to the EWS chip on the car with a rolling code that resets each time it is used. The EWS knows if the DME chip has been changed.
The "factory solution" is to buy a new DME board from BMW for $1,428 and have the shop recode it. As an alternative, Eric found a remanufactured circuit board from ProgRama for $95.
So let's say we will be in the whole job under $800 when done if the board works. I figure the retail value of this car is around $4,000. It's worth exactly nothing as it sits, not running.
Sell the Old, Lease Something New
Alex started doing some research and found that through VW's "College Graduate Program," she can lease a new Jetta for three years for $119 per month. If you factor in the $1,995 down-payment, that's a net of $174 a month.
Maintenance would be minimal, and at the end of three years she would have spent $6,264 and had a reliable ride for over 1,000 days.
I'm sure other manufacturers have comparable deals.
So we've been scratching our heads deciding which way to go. We're going to have to repair the 318i no matter what, but once we get it running, I can only wonder how long it will be before something else expensive decides to fail.
I think this car has reached the downside of its life cycle. I would be surprised if the person who buys it from us for $4,000 will spend the same kind of money maintaining it that I have. So chances are that the next owner will be its last before it ends up at a wrecking yard.
That would be a sad end for what has been a faithful little car, but we have clearly received our value here, and the 318i has done exactly what it was intended to do, which was provide safe transportation for nearly 20 years.
All good things come to an end. I think it's time for Alex to look at leasing a new car, let the 318i sail off into the sunset, and find something that will get her to work on time.
If you'd like to consider having the ex-Alex SCM 318i as a perfect first car for your 18-year-old, drop me an email at keith.martin@sportscarmarket.com.