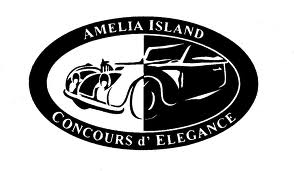 Jacksonville, FL (October 21, 2013) – The Amelia Island Concours d'Elegance announced today that David Schultz of Massillon, OH, has been named the new Chief Judge of the Concours.
Schultz is uniquely qualified as "The Amelia's" Chief Judge. He is currently the President of the Classic Car Club of America (CCCA), a trustee of the Classic Car Club of America Museum, and of the Lincoln Motorcar Foundation, Hickory Corners, MI, and a columnist for Hemmings Classic Car magazine. From 2003 through 2012 he was the Executive Director of The Glenmoor Gathering, a concours held annually at the Glenmoor Country Club in Canton, OH.
Schultz is the third to hold the title of Chief Judge since the founding of the Amelia Island Concours d'Elegance in 1996. He succeeds William Jeanes who held the post for 15 years after replacing the concours first Chief Judge, designer, author and photographer Peter Brock.
"After 15 years as Chief Judge and 75 years on earth, it's time to step away," said William Jeanes. "David Schultz has been an integral part of the judging team for many years and will bring new energy and an extraordinary expertise to the job. I look forward to judging under him, knowing that he will be less abrasive to work with than I ever was."
Schultz has been a classic car enthusiast since the age of six when his grandfather took him to the Greenfield Village's Old Car Festival. "That was my old car epiphany," he said. His personal fleet of classic cars includes a 1922 Lincoln Sports Phaeton, several classic 1930s Lincolns and a 1936 Pierce-Arrow Sedan.
The 2014 Amelia Island Concours d'Elegance will be held March 7–9 on the 10th and 18th fairways of The Golf Club of Amelia Island at Summer Beach adjacent to The Ritz-Carlton, Amelia Island. The show's Foundation has donated over $2 million to Community Hospice of Northeast Florida, Inc. and other charities on Florida's First Coast since its inception in 1996.