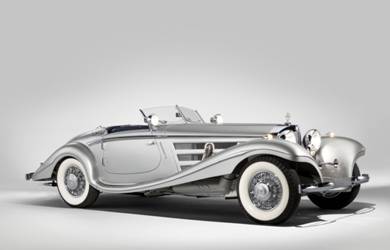 RM Auctions will celebrate the 125th anniversary of Mercedes-Benz at its Monterey, California sale next month by presenting the most important collection of Mercedes-Benz motor cars ever offered at public auction.
The highly-anticipated two-day sale, scheduled August 19 – 20, will present 13 magnificent examples from the world-famous German marque, spanning over 80 years of production.
Headlining the spectacular offering is an extraordinary 1937 Mercedes-Benz 540 K Spezial Roadster, chassis 154140 from the private collection of Sam and Emily Mann, recently displayed at the gala opening of Mercedes-Benz's new Manhattan flagship store. One of just a select few built with the most desirable configuration of high door, long tail and covered rear spare, of which it is believed just three examples survive, the ultra-rare 540 K is expected to establish a new world record for a Mercedes-Benz sold at auction. (Estimate Available Upon Request)
The multi-million-dollar 540 K is surrounded by an impressive series of four other big supercharged eight-cylinder Mercedes from the 1930s – each boasting impeccable histories – including three magnificent automobiles from the esteemed Lyon Family Collection, along with an important 1936 Mercedes-Benz 540 K Sport Cabriolet A offered from private ownership. As part of RM's commitment to offering automobiles of exceptional quality, the Canadian-based auction house is working with Mercedes-Benz for the presentation of these five important vehicles, with each recently inspected in person by veteran experts from Mercedes-Benz Classic in Germany.
"We are thrilled to celebrate Mercedes-Benz's heritage in their 125th anniversary year by presenting some of their most reputed automobiles from the 1930s. Exceptionally rare and unique in their own right, each car is a wonderful representation of luxury, stunning design, forward-thinking engineering and performance – qualities that have defined the Mercedes-Benz brand throughout its long history," says Rob Myers, Chairman and Founder, RM Auctions.
"In addition, we are delighted to have the support of the Mercedes-Benz Classic team for what promises to be an unprecedented sale. RM, like Mercedes-Benz Classic, places a strong emphasis on quality, and we are grateful to the Mercedes-Benz Classic team in Germany for making the trip Stateside to share their expertise and inspect each vehicle."
Michael Bock, Head of Mercedes-Benz Classic in Stuttgart, Germany, adds, "These vehicles are historical treasures from the1930s and the auction is a great celebration of Mercedes-Benz longevity and legacy over the past 125 years."
Continuing RM's reputation as the specialists for private collections, the Monterey sale will feature three magnificent Mercedes-Benz vehicles from the distinguished Lyon Family Collection. Included in the trio: the 'Berlin Motor Show Car', a beautifully-presented 1935 Mercedes-Benz 500 K Roadster; the 'Paris Salon Car', a rare 1936 Mercedes-Benz 540 K Spezial Coupe; and a unique, highly-desirable 1939 Mercedes-Benz 540 K Spezial Roadster. Combining luxury with performance, each is presented in exceptional condition having been treated to expert maintenance and climate-controlled storage during their tenure in the well-known Californian collection.
1935 Mercedes-Benz 500 K Roadster, chassis 105380
'The Berlin Motor Show Car'
Chassis 105380 represents a magnificent example from the top of Mercedes' product offering in the mid-30s. Completed in February 1935,105380 was immediately shipped to Berlin where it was displayed as the centerpiece of the Mercedes-Benz stand at the Berlin Motor Show. Soon after, it was sold to its first owner, Hans Friedrich Prym, eventually passing through a succession of respected and well-known collectors. Today, resplendent in its rich red paint and tan leather interior, it is offered from the distinguished Lyon Family Collection, where it has been assiduously maintained for many years. (Estimate: $4,000,000 – $5,000,000)
1936 Mercedes-Benz 540 K Spezial Coupe, chassis 130944
'The 1936 Paris Salon Car'
Displayed at the all-important Paris Salon in 1936, chassis 130944 is another magnificent example of Sindelfingen's creativity and style. One of a limited few coupes built on the Mercedes-Benz 540 K chassis, its dramatic coachwork and styling features saw it shine as one of the standout features at the Paris Salon that year. Following the display, 130944 was sold to its first owner, Jean-Claude Solvay of the Belgian chemical company dynasty, eventually making its way to the United States in the 1960s. Today, just four owners from new, its upcoming sale, complete with a copy of its original build sheet, represents a rare ownership opportunity for discerning collectors. (Estimate: $3,250,000 – $4,500,000)
1939 Mercedes-Benz 540 K Spezial Roadster, chassis 408383
Featuring elegant and stunning one-off 'Spezial' coachwork, 408383 is a great illustration of Mercedes-Benz's most desirable eight-cylinder model. Specially commissioned by the Horn Brothers, proprietors of an exclusive boutique in Berlin, it differs from other 540 Ks through its range of unique styling cues, including teardrop fenders and tapered rear deck. As a late example of the highly-desirable 540 K, it also features a five-speed transmission with overdrive fifth speed, as introduced by Mercedes-Benz in 1939. Beyond its unusual attributes, 408383 boasts a fascinating history. After going into hibernation during World War II, it eventually resurfaced in the Soviet Union during the late 1960s where it had been stored at a Soviet Generals' summer house. A numbers-matching example, it is beautifully-presented today in its correct shade of black and is considered a bridge between the classic Mercedes-Benz 540 K and the company's more modern, streamlined concepts of the fifties. (Estimate: $3,500,000 – $4,500,000)
RM's impressive roster of supercharged 1930s Mercedes is rounded out by the 1936 Mercedes-Benz 540 K Sport Cabriolet A, chassis 130945, one of a limited few transitional 500 K – 540 K Sport Cabriolet A models. Featuring the then-newly introduced 540 K motor, it was delivered to its first owner, Maria Leyder of Stuttgart in 1936, eventually making its way to the United States following the war. Today, the subject of a 100-point restoration, it has received numerous awards on the show field, including at Pebble Beach and Forest Grove. In addition, it has successfully competed twice in the Monte Carlo Historic Rally, finishing first place in both 1991 and 1994. (Estimate Available Upon Request)
Other notable Mercedes entries for RM's August 19 – 20 sale include: an important 1924 Mercedes-Benz 28/95 Sport Phaeton, one of only a handful in existence; a pair of 300SL Coupes from the 1955 and 1956 model years; and a 2006 Mercedes-Benz SLR McLaren, representing the company's more recent designs.
Beyond the auction cars, in celebration of their 125th anniversary Mercedes-Benz will showcase an unprecedented number of historical Mercedes-Benz vehicles during this year's Pebble Beach Concours weekend including a significant display of prewar grand prix cars.
RM's Mercedes-Benz offering will be complemented by a host of other important blue-chip automotive marques as the leading auction and restoration company continues its strong track record on the Monterey Peninsula. In 2010, RM achieved top honors during the Monterey classic car week, posting the highest auction results of the week with $67 million in total sales and an impressive 95% of all lots sold, along with clinching an unprecedented fourth 'Best of Show' in 10 years at the prestigious Pebble Beach Concours d'Elegance.
A full list of Mercedes-Benz automobiles on offer at RM's 2011 Monterey sale, including complete catalog descriptions and professional photography, is available online at www.rmauctions.com/mercedes. Additional sale information is available by visiting www.rmauctions.com or calling +1 519 352 4575.
For further information on Mercedes-Benz Classic, please visit www.mercedes-benz-classic.com.
Event details – RM Monterey
Sale dates: August 19, 2011 6:30pm – 11:00pm PST
August 20, 2011 6:30pm – 11:00pm PST
Preview dates: August 17, 2011 10:00am – 8:00pm PST
August 18, 2011 10:00am – 8:00pm PST
August 19, 2011 10:00am – 8:00pm PST
August 20, 2011 10:00am – 8:00pm PST
Location: Portola Hotel & Spa and Monterey Conference Center
2 Portola Plaza, Monterey, CA 93940
Admission: General admission is available for $40.00 per person for an event pass, which grants one person access to the preview days. An official auction catalog is available for an additional $120.00 US although it does not constitute admission to the auctions.
Bidder registration is $200 and includes an official auction catalog and admission for two to the preview, reception and auction.
For those interested in participating but unable to attend in person, RM offers a range of remote bidding options including absentee, Internet and telephone bidding. In addition, RM's Monterey sale will stream live online at www.rmauctions.com to provide real-time coverage of the auction.