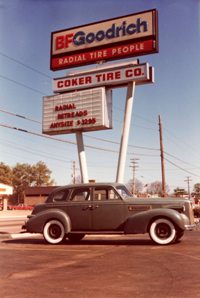 Chattanooga, TN, May, 2008–Some consider Corky Coker, President of Coker Tire, a modern-day "Indiana Jones," traveling the world in search of forgotten treasures, only in his case the bounty is not jewels, but long-lost tire molds. Now, celebrating its 50th year in business, Coker Tire Company continues its commitment to the process of uncovering these rarities and providing discriminating automobile collectors with the finest classic tires.
Founded by Harold Coker in 1958, Coker Tire Company has provided rare and obsolete tires to antique car collectors and restoration hobbyists from its headquarters in Chattanooga, Tennessee. Today, the company offers the largest selection of specialty tires worldwide, offering period-correct bias-ply and nostalgic radial tires for collector vehicles from the late 1890s through the mid 1970s. Coker's tire offering includes everything from antique and classics cars, hot rods, and motorcycles to drag cars, vintage aircraft, military vehicles, antique tractors and unicycles.
The President of Coker Tire, Joseph "Corky" Coker – whose life-long nickname came from a 'Gasoline Alley' comic-strip character – was born into the collector car hobby and took over the specialty niche portion of the small family business in 1974. When Corky Coker first took the reigns, Coker Tire sold vintage tires from a 500-square-foot storefront in Tennessee. Today, the Coker facilities occupy more than 250,000 square feet in multiple historic buildings located in the south-side district of Chattanooga, Tennessee with an additional distribution center in Fresno, California. Coker primarily utilizes tire-manufacturing facilities in Pennsylvania and Ohio, but also contracts a small portion of their needs with niche manufacturers in Taiwan, Mexico, Vietnam, and India.
"Building inventory is often a challenge when the product is no longer being manufactured by normal tire manufacturers," says Coker. "In order to provide our customers with the rare vintage tires they are looking for, we buy old original molds from tire makers, we scour the world to acquire old obsolete tire molds from long forgotten factories, and do whatever it takes to make the most accurate, reliable and period-perfect tires available."
When Coker could not locate original tire molds, he reproduced new molds from drawings and sample tires. For those collectors who need authentic tires for extremely rare vehicles, Coker Tire even offers one-off custom manufacturing, painstakingly recreating authentic tires to adorn priceless vehicles like the 2007 Pebble Beach Concours d'Elegance best-in-class winning "Fatty" Arbuckle 1919 Pierce-Arrow and the half-century-old General Motors Futurliner truck.
In addition to manufacturing Coker Classic, Pro-Trac and American Classic-branded tires, Coker Tire Company is able to offer an astounding collection of vintage products through licensing agreements and exclusive distributorships with the top name-brand manufacturers. Coker's partnerships include companies such as BFGoodrich, Firestone, Michelin, Ford, and U.S. Royal. In order to offer its customers a quality selection of specialized high-performance drag racing tires, Coker Tire acquired Phoenix Racing Tires and the rights to distribute M&H Racing Tires, which was recently named one of the "Top 10 Most Significant Aftermarket Companies" by Hot Rod Magazine.
As Coker Tire evolved, its line of products also expanded beyond just vintage tires to include vintage rims, wheels, and hubcaps; tire-related collectibles, apparel, and accessories; tire and whitewall cleaning products; and even its own line of Coker unicycles and Monster Cruiser bicycles. Throughout the company's growth from a small family business to a worldwide industry leader with more than 60 employees, Coker has strived to offer the highest-quality products possible, backing its products by promising superior customer satisfaction with a "No Sweat" return policy that simply declares that if it ain't right, send it back, no sweat.
Distribution methods have changed significantly over the company's 50-year history. In the early days, Corky Coker traveled to auto shows and swap meets across the country in a van packed with tires. As the company matured, the vans became larger and larger until Coker Tires employed a fleet of tractor-trailers to bring inventory to close to 70 collector vehicle events and trade shows each year. In the mail-order era, focused marketing efforts brought the Coker Tire's product catalog to the mailboxes of thousands of automobile collectors and enthusiasts who placed their orders through telephone service centers. As part of the current high-tech marketplace, the company website www.cokertire.com also offers its complete catalog of tires and collectible merchandise online for simple and secure transactions.
Through the success of his 50-year business, Corky Coker has been able to contribute to the collector car community, often speaking on behalf of hobbyists in Washington D.C. Corky has also served as Chairman of the Automobile Restoration Market Organization as well as the Chairman of the Board of the Specialty Equipment Market Association. Coker holds memberships in many collector clubs, including the Antique Automobile Club of America, Antique Motorcycle Club of America, Antique Truck Historical Society, Cushman Club of America, and the Horseless Carriage Club of America. For his involvement in the business and automotive community, Corky Coker has been honored as the Tennessee Small Business Person of the Year (1997), ARMO Manufacturer of the Year (1997) ARMO Hall of Fame inductee (1998), and the Meguiar's Collector Car Hobby's Person of the Year (2004).