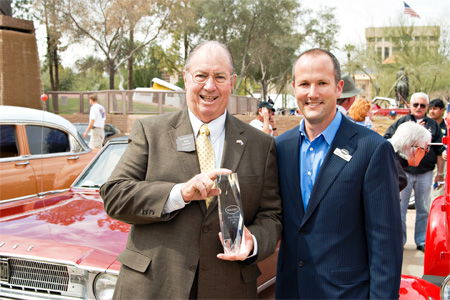 PHOENIX, Ariz. (March 14, 2007) – Nearly 500 car enthusiasts assembled along the Wesley Bolin Memorial Plaza at the Arizona State Capitol on March 7 to show their support and enthusiasm for collector cars. Arizona's Collector Car Appreciation Day celebrated the recent approval of an emissions testing exemption for the state's collector vehicles and motorcycles. The event was organized by Hagerty Plus, the country's largest collector car membership organization, which is part of Hagerty Insurance Agency.
The occasion also honored State Representative Ray Barnes with Hagerty's first Hobby Advocate of the Year award for his tireless support of Arizona's collector vehicle community. To further mark the state's support of the collector car hobby, Governor Janet Napolitano issued an official proclamation naming March "Arizona Collector Car Appreciation Month."
"We were pleased to see the amazing turnout at this event. We didn't realize how much interest this bill garnered until we saw hundreds of enthusiasts line the streets with their own cars to show their support," states McKeel Hagerty, CEO of Hagerty Insurance Agency. "We want to thank the local legislators who recognized the importance of this bill and truly welcomed us and all the collector car owners that attended the event."
The recently approved legislation will help to ensure a bright future for Arizona's collector vehicle enthusiasts. The law, which exempts collector cars from Arizona's emissions testing, passed with near-unanimous support from legislators and state regulators. Widespread support for the measure came after the Arizona Department of Environmental Quality determined that collector vehicles had almost no effect on the state's air quality. The EPA also recently approved the legislation, signaling a statewide victory for hobbyists.
Hagerty has supported numerous bills for car enthusiasts nationwide. The organization has also conducted two previous Collector Car Appreciation Days – in West Virginia and Michigan. Future events are planned for later this year and will be posted on Hagerty's website.
Hagerty Plus is a membership program created by Hagerty Insurance Agency, the leading insurance agency for collector vehicles and boats in the nation and host to the largest network of collector car owners. The program offers members 24/7 flatbed towing and roadside service, a quarterly magazine, concierge service and free hobby resources including informative pamphlets.
Hagerty offers collector car insurance, financing and roadside assistance, as well as a variety of useful information resources. The company works proactively on hobby legislation and supports the Collectors Foundation, a nonprofit organization dedicated to preservation of the hobby. For more information, call 800-922-4050 or visit www.hagerty.com