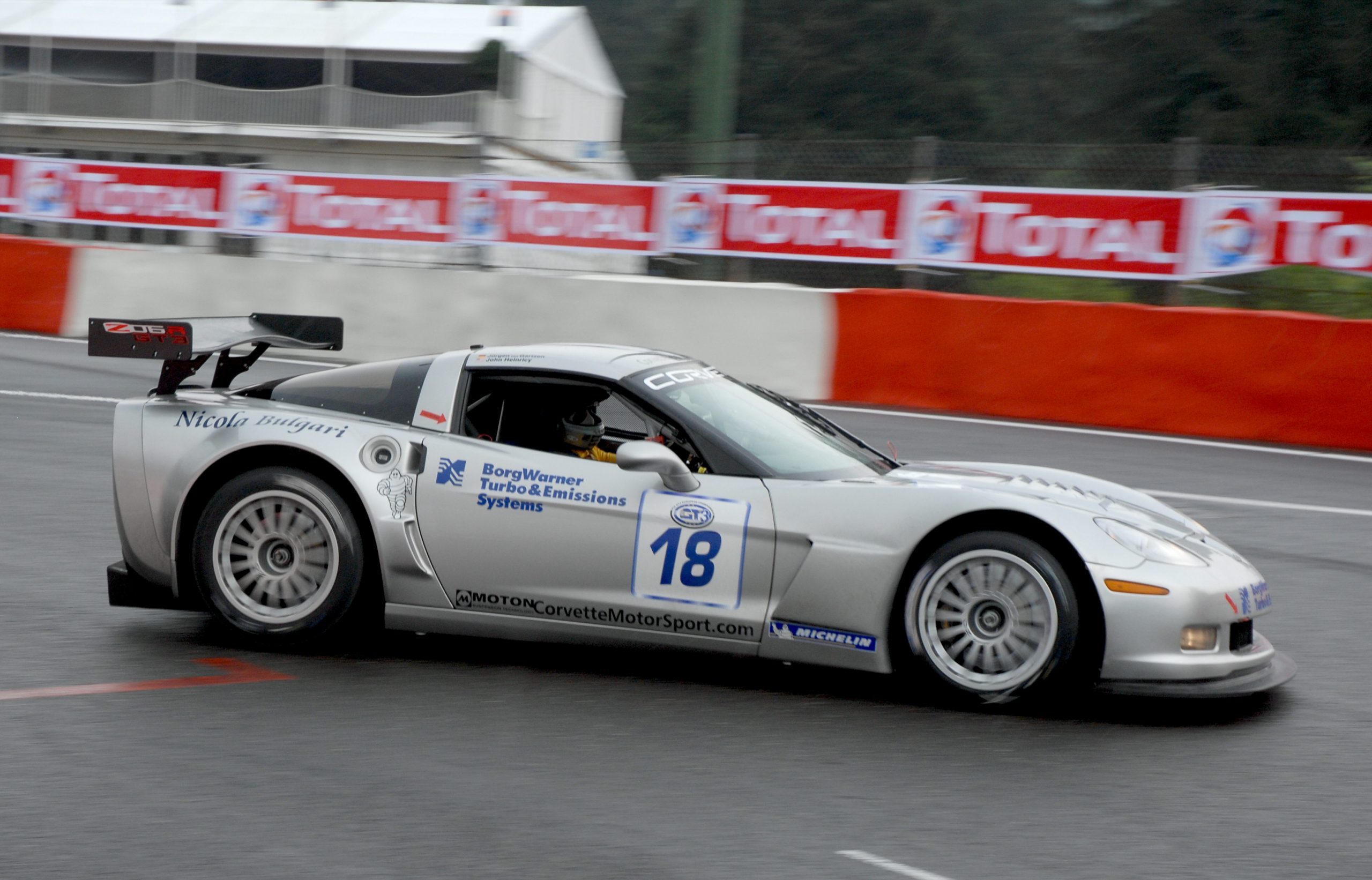 NICOLA BULGARI SPONSORS Z06R
CORVETTE IN FIA GT3 SERIES
Classic car collector Nicola Bulgari puts his name on one of six
Z06R Corvettes competing in FIA's high-profile European
Championship Series.
ROME, IT — Why would a consummate automotive aficionado born,
raised and living in the country that has given us exotic nameplates
enthusiasts have historically lusted for, drive, collect and now
race American cars?
To know Nicola Bulgari is to understand his tireless passion for American
cars and why he has chosen a Corvette Z06R (prepared and campaigned
by his friends Giovanni Ciccone and Ernst Woehr at Callaway Competition,
Leingarten, Germany) for his first racing endeavor.
"I've been an American car enthusiast since my childhood days in Rome.
At first it was the styling, then I came to appreciate the power, comfort
and ride advantages that they had over the vaulted European luxury and
sports car brands. As soon as I was old enough to drive I bought an
American car. And I haven't stopped," said Nicola Bulgari.
Bulgari's silver (#18) Corvette, sorted out by racer and GM engineer John
Heinricy, is one of six 7-Litre, 530 horsepower LS7-powered Z06Rs
prepared and maintained by the premier Corvette racecar shop in Europe.
Three are yellow and campaigned by the French Riverside team; three
are silver and campaigned by Carsport Callaway.
Race-prepared Z06Rs are tuned to run on 98-octane fuel and they ride on
center-lock 18-inch magnesium wheels (12-inch wide fronts and 13-inch
rears) shod with Michelin tires. Chassis modifications include a full cage,
ATL fuel cell, AP six-piston front and four-piston rear vented disc brakes,
Rose-jointed four-wheel double wishbone suspension and Morton doubleadjustable
shocks. Exterior changes include Polycarbonate windshield and
backlight, Carbon-composite body panels and an adjustable rear wing.
Complete specifications and details on building and competition prepping
an FIA GT3 Z06R Corvette racecar can be found at
www.CorvetteMotorSport.com.
"The C6 Corvette is a world class sports car and the Z06 is a magnificent
monster with Finishing School manners. It delivers Supercar performance,
handling and braking at a fraction of the cost of European exotics. Best of
all, it's a Corvette you can drive every day and have serviced by any
Chevrolet dealer. I'm thrilled to be part of Carsport Callaway's Z06R
racing effort, competing against some of the world's best
Sports and GT cars."
The six Carsport Callaway 530-horsepower Z06R Corvettes compete in
GT3 against the following Sports/GTs in the FIA Championship Series:
Ascari (BMW V-8-power) KZ1R, Aston-Martin DBRS9, Dodge Viper
Competition Coupe, Ferrari 430 Challenge, Lamborghini Gallardo, Maserati
Gransport Light, Porsche Cup 997 and Venturi (Audi V-8-power) Heritage.
An outspoken supporter of General Motors, Nicola Bulgari drives Buicks,
Cadillacs and Corvettes in Europe and the United States. Many have been
modified for improved performance, braking and handling. His 1996
Roadmaster sedan (actual last one built) and station wagon have been
completely re-engineered by Specialized Vehicles Inc, (SVI) Troy, MI,
for high-speed touring. Under stock Roadmaster hoods are blueprinted
502-cubic-inch, 535-hp GM big-blocks fitted with proprietary fuel
injection and engine management systems!
Bulgari, a Corvette enthusiast since the 1960s, is especially proud that
the Z06 is showing the world that GM can build a Corvette capable of
competing, on the road as well as the track, with the world's finest and
most expensive Sports and GT cars.
A 24/7 car guy who has been collecting and showing American cars,
primarily GM and orphan nameplates, for more than three decades, he
owns the largest private collection (60-plus) of vintage Buicks. It includes
rare Woodies and a stunning 1935 96S coupe that has placed at Pebble
Beach. His vintage car collection, located in Rome, IT and Allentown, PA,
totals 140 cars. All are plated, insured and driven as often as possible.
In addition to the Z06R Corvette, Bulgari has a pair of vintage competition
cars. One is a rare 1953 Hudson Hornet (Satan Of Morimar ) hill climb
car powered by an Isky-cammed, aluminum-head, 308-inch Twin-H Six. He
also owns the ex-David Pearson 1989 Buick Regal (#16) NASCAR racer
that has been fully sorted out for running on the HSR vintage circuit. In
full Chattanooga Chew livery, the Regal features a Banjo Mathews
chassis and a 650-plus horsepower small-block. Both are race-ready.
Nicola Bulgari sits on the Board of The LeMay, America's Car Museum in
Tacoma, WA, and has displayed his cars in special exhibits at the Saratoga
(NY) Auto Museum and the AACA Museum in Hershey, PA. The LeMay
Collection is listed in the Guinness Book of World Records, as the
largest privately owned automobile collection in the world.
For more information, please contact Martyn L. Schorr:
MLSchorr@Verizon.Net, 941-957-0827.
For details on the 2006 FIA GT3 European Championship Series,
go to www.fiagt3.com.