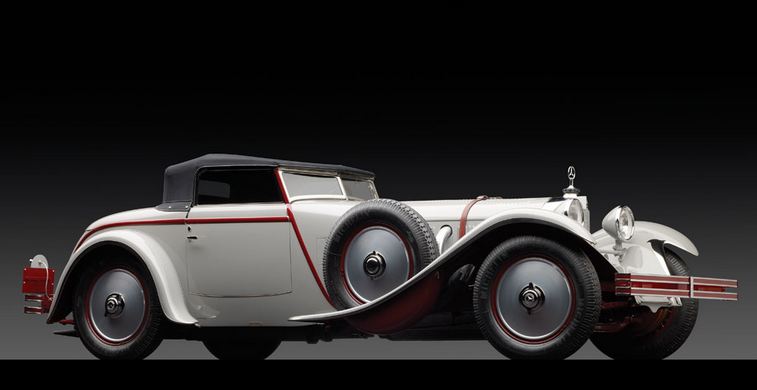 From concours stage to auction podium, an exquisite, multi-award-winning 1928 Mercedes-Benz 680S Saoutchik Torpedo, judged Best of Show at the 2012 Pebble Beach Concours d'Elegance, returns to California's Monterey Peninsula, from August 16–17, as a premiere offering at RM Auctions' flagship Monterey sale.
Considered the fastest sports car in the world at its time, the stunning, supercharged Mercedes-Benz 680S, chassis 35949, is a magnificent example of automotive artistry and the perfect combination of German engineering and French Avant-Garde design. Featuring a low-slung torpedo roadster body by J. Saoutchik Carrosserie, it is arguably one of the renowned coachbuilder's most striking pre-war designs. Devoid of any running boards, from a visual perspective, it effortlessly combines swooping front fenders with highly polished German Silver trim, a low windshield, and a disappearing convertible top for dramatic effect; while inside, the reptile-skin seats and intricate wood accents, including a large wood-rimmed steering wheel, give a heightened sense of luxury.
In addition to its spectacular design, 35949 boasts a fascinating provenance. Originally custom ordered by a Mr. & Mrs. Charles Levine, the customer failed to take delivery of the car upon its arrival in New York for reasons thought to be "business reversals" prior to the market crash. Instead, the vehicle was exhibited on the Mercedes-Benz stand at the 1929 New York Auto Salon, before going on display at the company's New York showroom. It was later sold to its first owner, Frederick Henry Bedford Jr., a director of the Rockefeller's Standard Oil Company of New Jersey, and went on to play a major role in the courtship of his wife. Following Mr. Bedford's untimely passing in 1952, chassis 35949 went into storage in the family garage for almost 30 years. It emerged in the early 1980s, when Bedford's widow commissioned a restoration to bring the car back to life before putting it on display at the Owl's Head Transportation Museum in Maine, where it remained a prized exhibit for the next two decades. After more than 75 years of single-family ownership, 35949 was eventually sold by the family in 2006 and came into the hands of its current owners in early 2008.
Upon purchase of the vehicle, the current owners engaged esteemed restoration firm Paul Russell & Company to complete a comprehensive, body-off restoration of the highly original car. With a strong emphasis on authenticity, the restoration team completed extensive, worldwide research as part of the restoration process, with the car returned to its period correct Dove Grey with dark red accents and chassis and a reptile-skin interior. The supreme quality of the restoration was recognized at last year's Pebble Beach Concours d'Elegance, where the car was awarded 100 points before going on to claim the coveted Best of Show title. Additional accolades bestowed on the stunning Mercedes-Benz include Restoration of the Year at the 2012 International Historic Motoring Awards and, more recently, First in Class at the celebrated 2013 Concorso d'Eleganza Villa d'Este on the shores of Lake Como, Italy. Presented for auction as not only historically accurate and mechanically perfect, but also visually breathtaking, the upcoming sale of this custom 1928 Mercedes-Benz 680S Saoutchik Torpedo is expected to capture the attention of the world's elite collectors (Estimate available upon request).
"We are truly honored to offer the 2012 Pebble Beach Concours d'Elegance Best of Show winner at our upcoming Monterey sale,"says Rob Myers, Chairman and Founder, RM Auctions. "Magnificent in every respect, the 680S Saoutchik Torpedo is a stunning work of art that blends superb design with high performance, making it an ideal candidate for the world's leading events, including long-distance touring. It's the perfect fit for our Monterey sale—an event held during a week that celebrates the best in design—and we're thrilled that Paul Russell's renowned restoration team will be on hand to help present this exceptional automobile at our Monterey auction next month ."
The stunning Mercedes-Benz 680S Saoutchik Torpedo joins a spectacular roster of more than 100 blue-chip automobiles slated for RM's Monterey sale. A longstanding tradition for collectors spanning more than 25 years, the flagship RM sale, during the Pebble Beach Concours d'Elegance week, returns to the Portola Hotel & Spa and Monterey Convention Center in downtown Monterey, California, August 16–17. In 2012, RM's Monterey auction generated a remarkable $96 million in sales and established numerous world records in the process.
For full event details, or to view a frequently updated list of entries, visit rmauctions.com or call +1 519 352 4575.