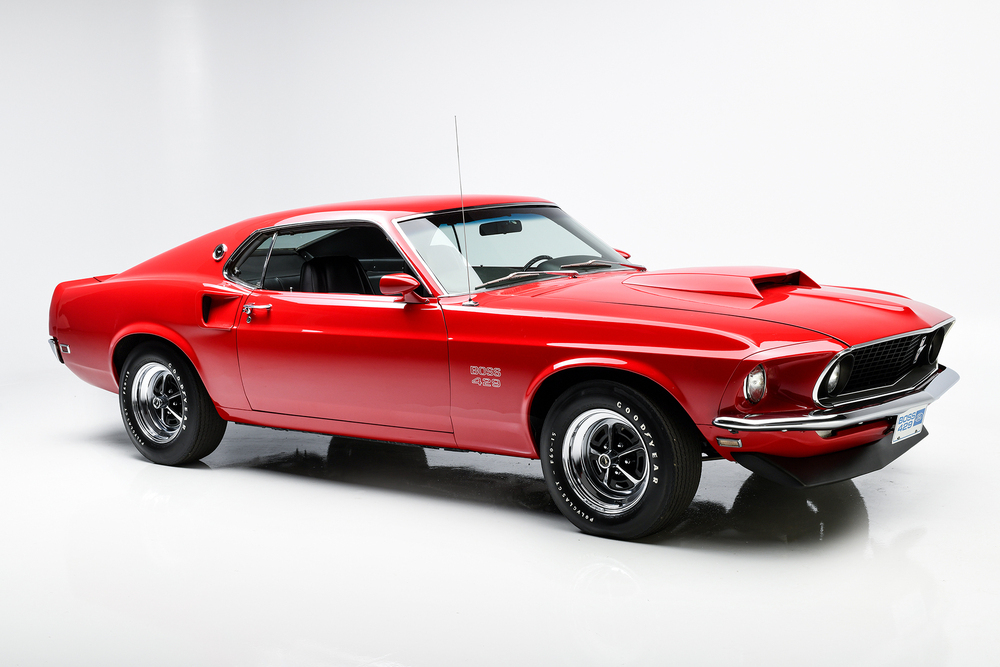 Hello once again, friends — from my house to yours.
It's been over six weeks since our last major land auction, the collection of sales on Amelia Island, FL, and even a hermit like me is itching to get out and kick some tires that I'll never own.
I stopped counting how many auctions I've scratched off the calendar on my desk, but this upcoming weekend was going to be Barrett-Jackson's Palm Beach sale prior to the pandemic. That sale is rescheduled for October 15–17.
In its stead, Barrett-Jackson has announced an online-only sale starting May 8 and running through May 17. Select cars and automobilia will be offered via Proxibid. Early highlights include a 1969 Ford Mustang Boss 429 in Candy Apple Red that was one of the first 150 examples built, as well as a custom 1963 Chevrolet Corvette Split-Window coupe built by Jeff Hayes Customs.
Sure, it isn't the same as sitting en masse under the biggest American flag you've ever seen, but we're a long way from that time again.
On this day in auction history:
Worldwide held their Texas Classic sale in Arlington, TX, on April 21, 2018. They sold 104 of 112 (93%) for $4,145,625. Highlights included a 1965 Shelby GT350 fastback sold at $363,000, and a 2011 Ferrari California we marked as a Best Buy found a new home at $102,300.
Recent sales suggest the California market isn't much different now than it was two years ago. Sales recorded in SCM's Platinum Database of non-T Californias from October 2019 to January 2020 averaged $104,744.
Since Monterey 2019, SCM has tracked the sale of five real-deal 1965 GT350 fastbacks offered at auction. They ranged from a $121k re-bodied car sold at Mecum's 2019 Monterey Auction and a $417,500 GT350 sold at RM Sotheby's 2019 Monterey Auction.
The most recent sale was at RM Sotheby's 2020 Amelia Island Auction for $401,000. Three of the last four sales have been for over $400k, with the one $121k sale of a re-bodied car the only exception. It appears that the recent '65 GT350 market is better than before, which is nice if you have one.
Stay safe, folks. Keep washing those hands.