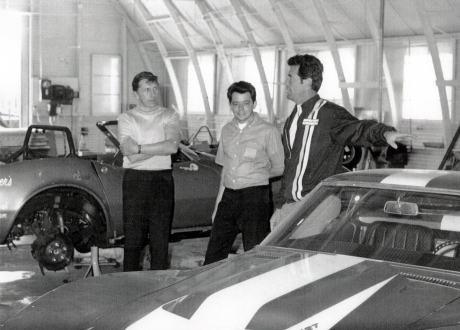 San Francisco, CA, July 30, 2008 – Bonhams & Butterfields has added the ex-James Garner/American International Racing 1968 Corvette L88 to its stellar roster of cars to be sold at its seminal Quail Lodge auction, held August 15th in Carmel, California.
The history of the three James Garner/American International Racing (AIR) cars is unique in automotive history, not simply because Garner's AIR team sponsored them under one banner, and not just because they were all-new L88 Corvettes, but mostly because of the high profile role of James Garner, Hollywood movie star, semi-pro baseball player and car fanatic.
Garner's long-standing fascination with cars undoubtedly reached its peak in 1968 when his AIR team purchased three brand new factory-built L-88s. These three Le Mans Blue convertible Corvettes were the first production models – produced by the Central Office Production – featuring the new L-88 engine with first generation closed-chamber aluminum heads. These cars, sold to the AIR team, were effectively part of GM's strategy to manage the release of its most powerful cars to a carefully controlled list of approved customers.
The drivers for the AIR team also represented the emerging stars of the day. Car # 44 was driven by Dick Guldstrand and the late Ed Leslie, and car # 45 was driven by Scooter Patrick, Dave Jordan and Herb Caplan, names which cause a stir even today.
The # 44 car, offered by Bonhams, is a magnificent restoration of the original car that Dick Guldstrand first drove at the 24 Hours of Daytona in 1968. Upon restoration, Guldstrand was again offered the opportunity to drive it at both the 1999 and 2002 Monterey Historics at Laguna Seca. Sitting in the car, he remarked that it was just as he remembered and that it was a thrill to be reunited with one of the very first cars he'd built. At the "Historics" Dick drove well, giving the Cobras a good run for their money. And why not? These cars are fast. When the AIR cars first appeared at Daytona in 1968 they set a new course record, neatly wrapping-up the first row of the grid in their class. When Jim Herlinger ran the car in 1973, five years later, he set lap records at Willow Springs and Laguna Seca. And the car has apparently lost none of its oomph because today it runs laps faster than it did in '73.
In addition to being beautiful and fast, the historic #44 car is loud. It's one thing to say that the car has appeared (and placed well) in several historic races, but at the Wine Country Classic at Sears Point, where relief is granted from the normal noise limitations, the car tipped the scale at 123 DB. That's louder than a rock concert!
The history and provenance of this Garner team car is well established and the car has been featured in many magazine articles, including past issues of Playboy, SHARK Quarterly, Keepin' Track of Vettes, and Victory Lane. It is also to be featured in an upcoming issue of Corvette Magazine.
As offered, the car comes with a professionally built aluminum head 454, built in the same manner as the 1973 engine. The original block and crank from 1968 are offered as part of the sale but are not in the car.
The ex-Garner/AIR racer will be offered alongside such astoundingly rare and historic cars as the 1960 Jaguar E2A Prototype, a 1939 Ecurie Nice Talbot-Lago T150 C SS, 1930 Scuderia Ferrari Alfa Romeo 6C-1750 Gran Sport, 1928 Streamlined Experimental Rolls-Royce Phantom I Torpedo, 1913 Isotta Fraschini Tipo KM, and an entire collection of Voisin, to name just a few. This remarkable line-up promises to be not only the star auction of this internationally prestigious car week but possibly the sale of the year as well.
The auction takes place Friday, August 15th at the Quail Lodge in Carmel Valley, California, with a preview being hosted the day before. Discerning collectors interested in registering to bid, either in person or remotely, may call or e-mail the Motoring Department at 415-861-7500 or motors.us@bonhams.com. Please note that entry to the Bonhams & Butterfields' preview and auction does not require a ticket to the Quail Motorsports Gathering.