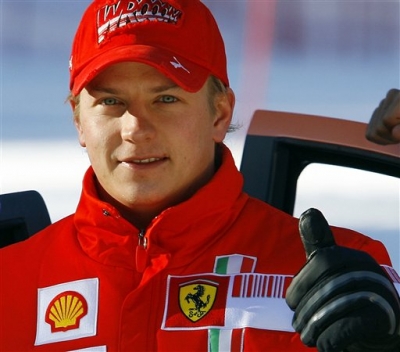 For Kimi Raikkonen it's finally holiday time, the first holiday as a World Champion. But before he took a much-needed vacation, he spent a weekend celebrating with the Ferrari World Finals at the Autodromo del Mugello.
"These were joyful days with many celebrations. It seems I can't stop smiling" said Kimi. "Wherever I go there are people who congratulate me. It seems that everybody in Italy is as happy as I am! Wednesday in Maranello was wonderful, when we celebrated the wins of the two Championships with everybody from the Scuderia. But I have to say that yesterday in Mugello was even better. In front of thousands of fans and numerous Ferrari clients."
"When I was going to the race track in Tuscany I remembered the first time I drove a race car, back when I was driving in the Formula Renault and then my first race in Formula One with Peter Sauber. I remember these feelings, but it is really something else driving the car, with which I just won the Championship, here at Mugello: it was like a second triumph. I was really happy and very proud being part of the Ferrari family when I saw all the fans celebrating. Thank you all so much, with all my heart!"
"There was a great surprise waiting for me after the celebrations at Mugello. I should have gone back to Switzerland but Jenni and my friends had planned something else. We went to Helsinki and celebrated the win with people who have always been close to me. This was a great way of coming back home for the first time as a World Champion. Now I'm on holiday. I'll try to chill out as much as I can and charge up my batteries. I drove almost every week during last season and now is the time to think of something else than four wheels. I'll try to forget Formula One a bit, but that will be difficult. This year was special to me. I can say that I fell in love again with the sport. I won't go to the test in November in Barcelona, but I might be back on the track in December. It will be great to start my second year with Ferrari now that I won the title.
It will be a new challenge, even more exciting, because I want to feel this joy again, one more time!"