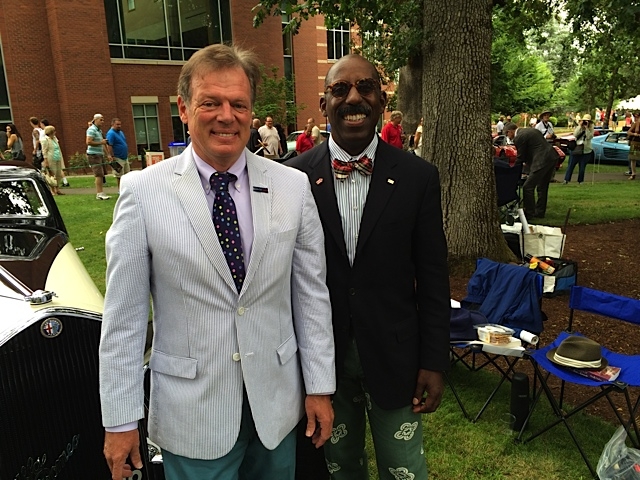 There's nothing better than a great car event that happens in your own backyard. No packing, no airports, no rental cars, no hotel rooms – just go into the SCM garage, pull out your favorite car (and a couple for your good friends) and head out.
This was the 42nd year of the Forest Grove Concours d'Elegance, which is held on the tree-shaded campus of Pacific University in Forest Grove, OR. While it's a 26-mile trip from downtown Portland to Forest Grove, Highway 26 is generally not crowded on Saturdays or Sundays, and the roads from the freeway to the campus are two-lane delights through a rolling agricultural countryside.
Held as a fund-raiser for the Rotary Club of Forest Grove, to date the event has raised over $1m to help fund scholarships and services for at-risk kids. SCM Editor at Large Donald Osborne returned for his third year as co-emcee of the event; this was my eighth year participating. Allen Stephens from the concours coordinated our involvement and has been a source of indefatigable energy and enthusiasm over the years.
The weekend started with the 12th annual Forest Grove Concours Vineyard Tour. About 50 collector cars gathered in downtown Forest Grove on Saturday morning. The weather was good, with sunny skies. SCM was well represented – I was driving our 1965 Giulia Spider Veloce, Donald was behind the wheel of the 1958 Sprint Veloce and Tim McGrane, executive director for the Blackhawk Museum in Danville, CA had our 1967 GTV. ACC contributor Michael Pierce drove his NCRS Top Flight 1967 427/435 Corvette roadster.
A number of Alfas made the drive. Jon Shirley's Pebble-Beach-winning 1938 8C 2900 was on the tour, driven by John Bennett, and David Smith's re-creation of a 1939 Alfa with a prototype V8 engine also participated. They made a striking pair.
Rick Johnston was the tour organizer, and Honorary Chief Judge Glenn Mounger welcomed the group. Our 90-minute route took us along country roads with names like Tongue Lane, Geiger Road, Fernhill Road and Bald Peak Road. The views were as striking as you might expect.
The tour ended at Abbey Road Farm, where a buffet lunch was served. Tasty wine from Seven of Hearts was available. The awards ceremony was informal, with SCM presenting trophies in several categories, including Oldest Foreign Car and Oldest American Car, and Car SCM Would Most Like to Have on its Cover. That happened to be a blue MGA 1600, as it reminded me of the MGA I owned when I was 17 and tried to drive from San Francisco to the Chicago Democratic National Convention. As you might imagine, it was not a trip I completed, but that's another story.
That night, the pre-concours dinner, An Evening of Elegance featuring The Art of Italian Motoring, was held at the tony 1910 Main in downtown Forest Grove. During the evening remarks, Susan Howell presented Glenn Mounger with a vintage fan owned by her husband Verne, who passed recently. Glenn had coveted the fan, and he made brief but moving remarks as he accepted it.
Concours morning was overcast, but there was no rain. Donald began interviewing owners, and when I arrived around 10 a.m., the field was full of spectators — more than I have ever seen there before.
Donald opened the awards ceremony by singing the national anthem, showing the same vocal brilliance that served him so well during his career at the Metropolitan Opera House in New York City. The awards ceremony moved along briskly, and the two contendors for Best of Show were the Shirley 8C, and a one-of-one 1933 Alfa 1750 with a Figoni body, owned by David and Adele Cohen of British Columbia.
As the 8C had driven on the tour, that was the tie-breaker and it was awarded Best of Show.
While the final reports aren't in yet, it's safe to say that with the size of the audience, a significant amount of money was raised for the Rotary. Furthermore, this was in my opinion the best group of cars I have seen at the concours, and I salute the organizing committee for all of their efforts in putting together a quality field.
It was a complete weekend of old-car indulging with good friends. A tour, a dinner and a car show – it doesn't get any better.
View the full judging results here.