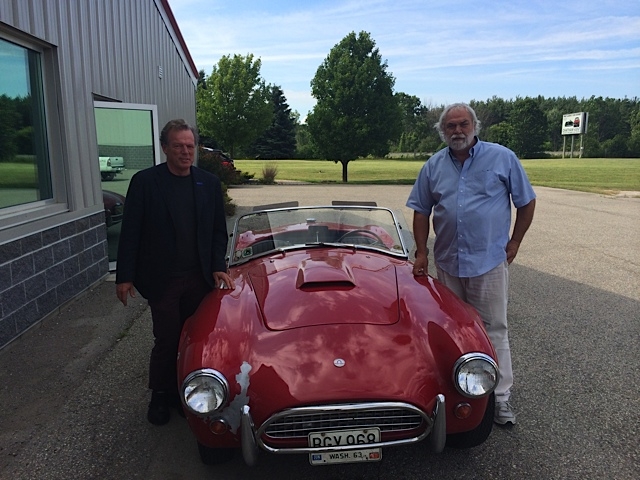 Last week, I savored a four-wheeled gourmet experience at RM headquarters in Chatham, Ontario (Canada). CEO and founder Rob Myers invited me to spend a couple of days at RM, and a generous buffet line of cars awaited my arrival.
Gord Duff, one of RM's top car specialists, showed me around, and he immediately offered the keys to his 1966 Shelby GT350. Upgraded from the original automatic to a Tremec 5-speed, the car was well-sorted and a delight to drive.
As we rumbled through the rolling countryside, Gord suggested I "put the pedal down" to find out what the car could do. Mindful of recent YouTube videos showing mechanics standing amid the rubble of smashed Enzos and F40s, I declined and told him I preferred to drive other people's cars like an automotive sissy.
Next up was the 1911 Mercer Raceabout, a 4-cylinder beast that was surprisingly easy to drive. The car is estimated to bring between $2.5 and $3.5m at RM's August 15-16 Monterey auction, so I carefully learned the limits of the transmission-cone brakes.
Myers allowed me behind the wheel of his unrestored 289 Cobra, with just 71,000 original miles. I've driven a lot of 289 Cobras, and his car has that absolutely "right feel" to it — one that only a well-kept, original car can have. I really liked this car, all the way down to its flaking, original paint.
The last two servings of this rich automotive meaI were from the same collector and are on offer at Monterey. The first was a 1966 Ferrari 275 GTS, s/n 07805, with less than 24,000 original miles. Estimate on the car is $1.75m to $2m. Although the seats were a little torn up, the car had a good feel, and I wouldn't hesitate to recommend putting your hand up for it.
My final ride was an alloy 275 GTB, s/n 08069. It had been with the current owner for over 40 years, and it had just over 59,000 kilometers (35,400 miles) from new. The car sputtered and popped a bit, and Duff said he felt the steering box was a little loose, but it pulled strong and made the right sounds.
There's nothing like the chance to taste the cars we write about in real life, and I savored this opportunity. I look forward to seeing the Ferraris and Mercer cross the block in Monterey — and seeing how the market values them.