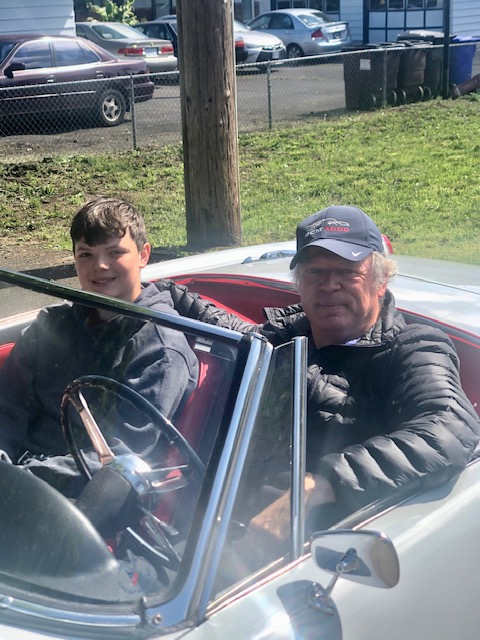 I celebrated Father's Day in car-guy style.
In one day, my 13-year-old son Bradley and I drove special cars from three different eras.
We started by taking the 1965 Alfa Romeo Giulia Spider Veloce out of storage. My good friend Neil D'Autremont has been managing the SCM cars. The car was on the button.
I've owned this car for more than 30 years, and I have pictures of my daughter Alex (now 28) and Bradley in the same car when they were each a year old.
This was my first time trying to drive a manual-shift car on the open road since my challenges of 18 months ago.
Our destination was Hooligan Racing, the shop of Alfa guru and good friend Bill Gillham in Jefferson, OR.
It's a 62-mile trip, all on the freeway. I figured once I got into 5th gear I could just cruise.
Bradley was with me, and I'd like to say he was thrilled to once again be in the Veloce. However, once he discovered that I had a USB charging port in the Spider, he was occupied by other things like texts and YouTube videos.
Neil followed us in our 1971 V12 Jaguar coupe.
It was extraordinary to once again be behind the wheel of the Alfa. The Conrad Stevenson-built 1,600-cc engine has always had the live-wire feel of a 1300 Veloce — with a significant increase in torque and horsepower.
As I am not yet able to move my left leg accurately enough for quick shifts, we stayed on Interstate 5 South. As giant pickups roared by us at 80 mph and more, I was reminded of just how unpleasant it is to drive a classic car — especially an open one — on today's highways.
As my leg improves and strengthens, I look forward to getting back to the twisty roads and up-and-down shifting this car was made for.
We were taking the car to Gillham for some minor corrections to the paint. He performed a "down-to-bare-metal" restoration of the car a couple of years ago, and things are still settling in from use.
Neil drove the Jag on the way back. Bradley managed to squeeze into the back seat. I asked him how it compared to being in the rear of the 308 GT4 Ferrari that Richard Lincoln and I drove from Fantasy Junction in Emeryville, CA, to Portland.
"Since I'm not sharing the seat with Carrera, Richard's dog, and its carrier, it's great" Bradley said.
The Jag is really coming into its own. After three trips on a flatbed to Ed and Barb Grayson's Consolidated Autoworks, the car has gradually been transformed from a garage queen to a real, usable, reliable car.
It has just 23,000 original miles, with original paint and interior. Author and friend John Nikas said that it was, "the tightest S3 E-type I have ever driven."
1971 is a special year for the S3, with higher compression (9:1 vs. 7.8:1) than the 1972-74 models, smaller bumpers and a movable rear seat back to allow for more luggage space.  The 5.3-liter, 272-hp V12 pulls like a locomotive and is as smooth as a turbine. The engine is well suited to the 3-speed automatic.
The a/c has been upgraded to R134. A more efficient radiator meant that the needle on the temperature gauge never moved from the center of the dial, even when idling in traffic on an 85-degree day.
Not feeling comfortable stopping at a restaurant, we ordered three Whopper Junior meals at a drive-through. We ate them on the road. I am known for not worrying about eating in my cars, but this marked a new high point for mobile consumption.
There was a treat waiting for us when we got back to Portland.
Some months ago, Matt Crandall of Portland-based Avant-Garde Collection sold our Bugeye Sprite on Bring a Trailer for $24,000. His BaT moniker is 911r.
When I decided I wanted a more modern car for road trips with Bradley this summer, SCM contributor and Turtle Garage blogger Philip Richter's response was emphatic. "Spend your Bugeye money on an AMG SL55," he said.
I had no idea what an SL55 was or why it mattered. But after an SL immersion orchestrated by Philip, Dean Laumbach and Pierre Hedary, a 42,000-mile SL55 arrived from Southern California.
The price was the same as we got for the Bugeye. It's hard to imagine two such dissimilar cars being valued the same, but that's the reality of a demographic-driven market.
My generation grew up on Bugeyes and will always love them. Millennials view the SL55 as a chance to have a supercar for Subaru money.
In 2004, our SL55 had a base price of over $120,000. It is equipped with a hand-built 5.4-liter supercharged AMG V8 that produces 490 horsepower at 6,100 rpm. To put it simply, it goes like hell.
Bradley hopped into the SL, put down the retractable hardtop, fiddled with the anachronistic a/c and radio controls and we were off to start a new adventure.
A whole day sharing super cars from three different eras with my great son. This was the best Father's Day ever.