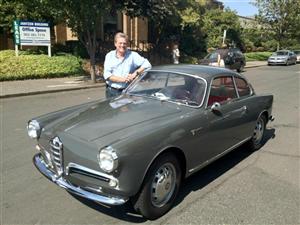 Winter has arrived in the Pacific Northwest, which means all of our cars want to come inside to roost.
This creates a problem, as SCM has thirteen cars and nine spaces to park them in.
Even I can do that math — four cars have got to go. (American Car Collector only has two cars, so for the moment, their 1964 Chevy Nova Wagon and 700-hp 1963 Dodge 440 drag car remain off-limits.)
Of course, I have my emotional favorites, but I'm more interested in hearing what you have to say.
I'm really asking two questions here: First, which four cars would you sell? And second, which one would you sell first? And why?
Here's the lineup, alphabetical by marque:
1958 Alfa Romeo Giulietta Sprint Veloce
1965 Alfa Romeo Giulia Spider Veloce
1967 Alfa Romeo GTV
1978 Alfa Romeo Alfetta GT
1957 BMW Isetta
1973 BMW 2002 tii
1982 BMW 633 CSi
1984 Land Rover Defender 90 Turbo-Diesel
1989 Land Rover Range Rover Classic
2006 Lotus Elise
2000 Porsche Boxster S
1973 Saab Sonett (photo courtesy of BringaTrailer)
1973 Volvo 1800 ES
Let me know your thoughts. For me, this is like deciding to sell a favorite pet. But until SCM buys its own 50-car garage (50 is a nice round number, don't you think) we will have to obey the laws of collector-car physics — one slot, one car.