It was with the remarkable Daina series, launched in 1950, that Siata introduced their first in-house chassis. The timing was ripe for the company's fortunes when Fiat management made the decision to produce a limited number of high-end sports cars powered by an innovative, all-alloy V8 engine. With this power plant, Siata saw the opportunity to create a car that could be homologated for the prestigious two-liter class. The chassis was mated to a tuned 8V engine, Read More
Inspired by Carroll Shelby's success in shoehorning a Ford V8 into the AC Ace to create the Cobra, British carmaker Rootes asked Shelby to perform the same trick with its Sunbeam Alpine sports car. Ford's 260-ci V8 engine was chosen, and even though this had "only"160 horsepower on tap, its power was nearly double the output of the contemporary Alpine's 1.6-liter engine.
Assembled by Jensen Motors and introduced in 1964, the Tiger featured a stronger gearbox and Read More

1970 Dodge Super Bee, Lot 356.2
VIN: WM21V0G145036
This is a matching-numbers "V" Code car. This beautiful car only has 85,000 original miles. The exterior and interior are in great condition. This car has been restored to its original color of Top Banana. The body is very straight with good gaps. Chrome front and rear bumper are beautiful. The underside is exceptionally clean with no surface rust showing on any of the Read More
Daimler of the U.K. (no relation to Daimler-Benz) was mainly a purveyor of ultra-stodgy sedans, hearses and limousines to British nobility and the royal family. They were as unlikely an entrant into the sports car market as Kaiser and Nash had been a few years early with the Kaiser-Darrin and the Nash-Healey. Nevertheless, the moribund Daimler saw the export dollars that Standard-Triumph and BMC were raking in during the 1950s, and the company decided to grab their own
Read More
There will be a rallying cry to keep it original, but unfortunately it just isn't nice enough to display or use the way it is
Produced between 1951 and 1953, Ferrari's 212 series carried the latest evolution of the formidable Colombo V12 engine. It was immediately successful in competition, winning both the Tour of Sicily and the Coppa Inter Europa, but the most important victory was surely the rugged 1951 Carrera Panamericana where the Ferraris delivered an amazing one-two finish!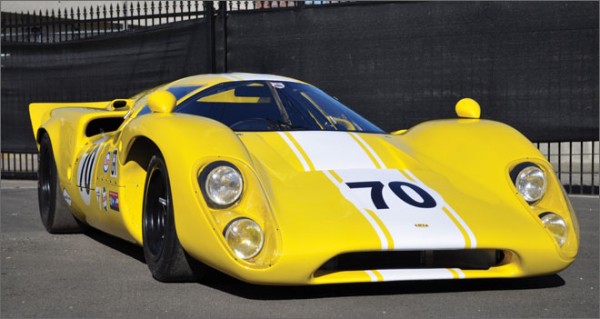 There are a lot more T70 coupes out there than ever left the Lola workshop in Slough
Eric Broadley's Lola project, the legendary T70, debuted in 1965 and quickly demonstrated its prowess in the hands of John Surtees, who won the inaugural Can-Am Championship in 1966. The T70 was produced in open Mk II Spyder and Mk III Coupe forms until 1968. Although eclipsed by the Ferrari 512 and Porsche 917, the race-proven Read More
No such critter like this was available new from Volkswagen—no matter how many option boxes were checked off
Introduced in 1950, the Volkswagen Type 2 effectively doubled the product line of the thriving German car company. Utilizing the same rear-engine air-cooled format as the overwhelmingly successful Beetle, the various Type 2 models featured new dimensions of passenger and cargo space in an ingeniously designed lightweight structure.
Single- and double-cab versions were sold in Read More
Its impeccable provenance following La Carrera and its impressive ownership chain makes it a plum piece for a collector
who appreciates quality over flash

This Ferrari, 0224AT, has had a busy and well-documented life. Assembled in September 1952, it was test-driven just one month later. Official photos were taken, with temporary Italian license plates BO 16722. It was then sold to Franco Cornacchia's Scuderia Guastalla in Milan and leased to Santiago Read More
A car, especially at auction, has to have that "wow" factor to excite bidders, and this one really did
The Miura presented here is, quite simply, unlike any other.
Issued production number 576, this Lamborghini represents the end result of a project undertaken by the factory's chief development engineer and test driver, Bob Wallace, to create the definitive Miura—the SV. As a prototype, this car was equipped with features that made it Read More
These cars were almost lost in the limelight of the Jaguars, Aston-Martins, Mercedes-Benzes, and Ferraris that raced in the same grids
Not long after the stunning Austin-Healey 100 debuted, Donald Healey began planning a high-performance version of his well-received sports car. Knowing that a competitive racing variant would boost the image of the various production models, several special test cars were created in 1953 and 1954 with various motorsport applications in mind.
After Read More
Get the SCM Newsletter
Sign up for a free weekly insider's report on the collector car market — and get a free gift.