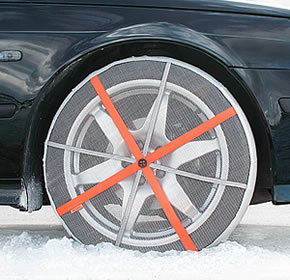 (OSLO, Norway) – October 10, 2006 – The makers of AutoSock®, a unique, traction-improving fabric cover that slips over automobile and truck tires, announced today it will launch North American marketing of its award-winning product at SEMA 2006, the world's premier automotive specialty products trade event to be held October 31st – November 3rd, in Las Vegas, Nev.
AutoSock® is an innovative automotive accessory that provides cars and trucks with the traction needed for sudden and unexpected winter driving conditions such as snow and ice. Made from high technology textile, AutoSock® takes just moments to install, providing drivers with quick and easy grip when surprised by winter conditions.
"We're bringing a unique, useful product to America that has been proven by hundreds of thousands of drivers across Europe," said Garry E. Rainy, U.S. contact for AutoSock. "AutoSock® extricates drivers from unforeseen challenges caused by inclement weather. AutoSock® provides convenience, safety and peace-of-mind to drivers. When the weather is bad, AutoSock® brings you home."
AutoSock® was awarded the prestigious International Grand Prix for technical innovation at Equip Auto 2005 by an international jury consisting of 75 journalists from 21 countries. The award has been given annually since 1985 for the most innovative concepts, products and services produced by automotive equipment makers.
AutoSock® is manufactured from high technology textile containing a unique fiber pattern that optimizes grip on slick surfaces. Used on the drive wheels of both two and four-wheel drive vehicles, AutoSock® is available in sizes to fit most cars and light trucks. AutoSock® is easily installed and removed, even in cold and difficult weather, and even on vehicles that are already stuck. Other AutoSock® features include:
· Drivable at up to 30 mph (50 km/h).
· Noise-free, vibration-free
· Lightweight, easily stored
· Quick, simple installation and removal
· Self-centering during installation and use
· Reusable, machine washable
· Environmentally safe, recyclable
· Non-damaging, even to alloy wheels
· Fits almost all passenger cars and many light trucks.
· Approved by leading test and certification bodies
· Approved by leading European auto makers
· Works on vehicles with low tire clearance
· Compatible with all electronic safety systems, like ABS and ESP
· 90% customer satisfaction rating
· MRSP $79-$99 (US) depending upon tire size
· 2 Year Warranty on defects and workmanship
Photos and technical information are available upon request. To receive additional information, or to schedule an interview, please call Dennis Dean at (414) 274-3003 or e-mail ddean@insidesh.com.
About AutoSock
AutoSock AS is a Norwegian research-based developer of products designed to improve the road safety of cars driven under adverse winter conditions. AutoSock® is high-technology research-based product with excellent traction and durability properties. The research and development has been supported by extensive tests and scientific textile- and friction theories. For more information visit www.autosock.com.